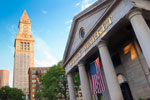 Shopping & Dining
Boston offers world-class dining and shopping options as well as local, artisan, and ethnic favorites. 
Find Your Favorite Food Truck

Food trucks can be found at 20 public locations around Boston and at special sites like the Rose Kennedy Greenway. Search by map, truck name, and more.
Main Street Districts

With over 2,000 businesses in the neighborhood, you are bound to have a good time.
Downtown Crossing

It is here, in the bustling fast-paced financial district, that you will find a full range of national department stores, boutiques, and pushcarts.
Faneuil Hall Marketplace

Here you will find over 40 pushcart eateries and 17 restaurants. Aside from the world class food, you can also find great shopping.
Haymarket

Every Friday and Saturday year-round from dawn to dusk, this open fruit and vegetable market draws in locals and tourists alike with their great products and low prices. Located along Blackstone Street between Hanover Street and North Street. Take the Green or Orange line to Haymarket and the market is located right next to the station.
Boston Public Market

Opened in July 2015, the Boston Public Market is the first and only locally sourced market in the United States. All of the vendors and products sold at the Market are from the New England area.
Newbury Street

World renowned shopping in some of Boston's most chic and fashionable stores.
Copley Place

This upscale mall is filled with stores and restaurants that are sure to please!
The Prudential Center

A great stop for shopping and dining! Located on Boylston Street where you will find an endless array of department stores.