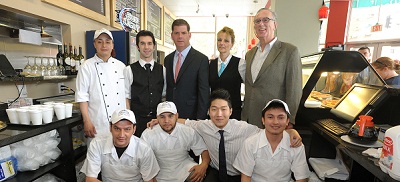 Boston's Small Business Plan
The Small Business Plan is a five year strategic document that aims to accomplish the following:
Make the small business economy thrive
Enhance neighborhood vibrancy
Foster economic and social inclusion and equity
About the Plan
This is Boston's first ever small business plan. It directly supports Mayor Walsh's push for increased economic equity and opportunities in Boston. It also answers his call for more innovative and improved ways to serve Boston's diverse array of entrepreneurs and small businesses.
The plan commits the City of Boston to
Realign its small business resources
Create a new Small Business Center
A strategic focus on minority, women and immigrant entrepreneurs; key growth segments; and the priority needs of small businesses in general
---
READ THE REPORT:
---
The Small Business Plan was a collaboration chaired by John Barros,Chief of Economic Development and Sheila Dillon, Chief of Housing & Department of Neighborhood Development.
General Business Resources