The use of Utility Repair Tag pavement markers
ensures accountability of each and every patch left after construction,
saves the City time and resources through fast identification of patch creators,
and provides an incentive for permittees to do the best possible job.
When a sidewalk is repaired, tags are only placed on temporary asphalt patches. Permanent sidewalk repairs (concrete, brick, etc) do not require a tag.  
Each tag is UV stable plastic and contains letters and numbers that relate to its user. The diagram below explains the meaning of the letter and number sequences found on the face of each marker.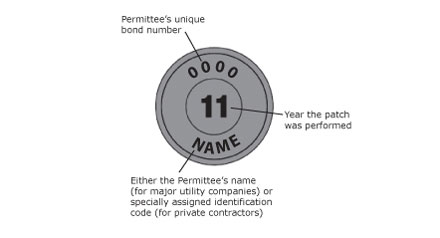 Public Works assigned each permittee's Utility Repair Tag a unique color.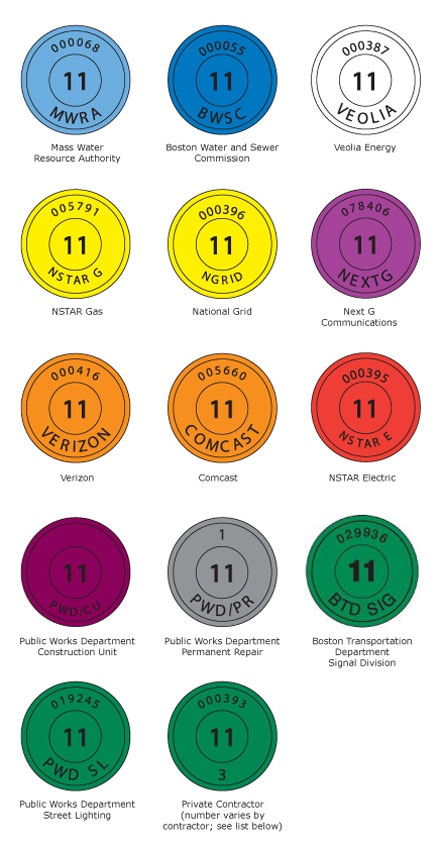 Due to the number of private contractors working in the City of Boston, the Public Works Department assigned each private contractor a unique code along with their customer ID number to be imprinted on their green marker.
| | | |
| --- | --- | --- |
| ID # | Permittee Name | Utility Tag # |
| 007229 | Walsh Corp | 1 |
| 051661 | Sean Farrell Excavation Co | 2 |
| 000393 | Bond Brothers Inc | 3 |
| 046080 | Keash Excavating Inc | 4 |
| 005925 | J Derenzo Co | 5 |
| 058940 | Atlantic Drain Service Inc | 6 |
| 002942 | Larosa Landscaping Corp | 7 |
| 050938 | JRF Corp | 8 |
| 007327 | Corbett Excavations | 9 |
| 006373 | LVMJ Corp. | 10 |
| 040273 | Brooksdale Construction | 11 |
| 025808 | Metro Equipment Corp | 12 |
| 045146 | Fred DeRoma & Sons | 13 |
| 006316 | K & K Excavation Co | 15 |
| 007211 | A Vozzella & Sons | 16 |
| 005949 | C J Doherty, Inc | 17 |
| 052203 | Atlantic Excavation and Utility Corp | 18 |
| 006683 | Welch Corp. | 19 |
| 045316 | A. Ferrara Constr Corp | 20 |
| 006070 | Flett,James W Co | 21 |
| 007265 | AA Will Corp | 22 |
| 002696 | Cavalieri Construction | 23 |
| 002873 | J F White Contracting Co | 24 |
| 091648 | LM Heavy Civil Construction, LLC | 25 |
| 002686 | Tri Construction Co | 26 |
| 006040 | Feeney Bros Excv | 27 |
| 005854 | Paul J Crowley Constr Co | 28 |
| 028622 | Daddieco Constr Co | 29 |
| 027729 | Tascon Corporation | 30 |
| 007062 | A Suffolk Engineering | 31 |
| 028310 | Commonwealth Excavation Inc | 32 |
| 053044 | Waterworks Sewer Service | 33 |
| 046482 | Mahoney,P F | 34 |
| 006669 | New Hampshire Boring | 35 |
| 006911 | Roto-Rooter Serv Co | 36 |
| 090034 | East Coast Pipeline & Excavating | 37 |
| 015061 | McCabe,Joseph P. Inc | 38 |
| 002669 | McCourt Construction Co | 39 |
| 008272 | Alga Paving Corporation | 40 |
| 069451 | J J Construction dba Jerry Giugliano | 41 |
| 090670 | RJ Cincotta Co. Inc. | 42 |
| 006958 | M J Scully Co | 43 |
| 005578 | Boston Drain Co | 44 |
| 081052 | BPB Construction, Inc. | 45 |
| 081117 | Advanced Water & Sewer | 46 |
| 007315 | Camdele Construction Co Inc | 47 |
| 005887 | D'Allessandro Corp | 48 |
| 059560 | MIA Construction Equipment Corp. | 49 |
| 023996 | Wes Construction Corp | 50 |
| 005742 | Ciampa Constr | 51 |
| 008270 | McComiskey Excavating | 52 |
| 072740 | Murphy & Fahey Construction Co Inc | 53 |
| 048352 | E B Rotondi & Sons, Inc. | 54 |
| 046875 | Geologic Earth Exploration Inc | 55 |
| 007361 | J Joyce Excavating Inc | 56 |
| 006127 | Geosearch Inc | 57 |
| 006511 | Mathias Corporation | 58 |
| 005694 | Carr-Dee Corp | 59 |
| 066813 | Demolition Joe | 60 |
| 007053 | Strada Constr Co | 61 |
| 008815 | Construction Unlimited | 62 |
| 007306 | B & T And Sons | 63 |
| 005592 | Botti,Joseph | 64 |
| 009099 | W.L. French Excavating Corp | 65 |
| 079991 | Trillennium Services, Inc | 66 |
| 002636 | G Greene Construction | 67 |
| 002590 | Suffolk Construction | 68 |
| 043956 | F E French Construction Co. Inc. | 69 |
| 071149 | Fleming Brothers inc. | 70 |
| 060321 | Aqualine Utility, Inc. | 71 |
| 015117 | Ruggeri,Michael A. | 72 |
| 073042 | CCG Communications, LLC | 73 |
| 007250 | James J Welch, Co | 74 |
| 028766 | CEI Boston, LLC | 75 |
| 005958 | Dowling Corp | 76 |
| 007084 | T J Blume & Sons | 77 |
| 006545 | Mclaughlin Bros Contr Corp | 78 |
| 005724 | Charles Contracting, Co | 79 |
| 007389 | Mirra Company Inc | 80 |
| 006694 | Northern Contracting Corp | 81 |
| 006013 | Environic Solutions | 82 |
| 028096 | Landmark Utility & Site Excavation Corp. | 83 |
| 006520 | McCarron,Thomas Co Inc | 84 |
| 053862 | Oliveira Construction Inc | 85 |
| 002601 | Payton Construction Corp | 86 |
| 000384 | Shawmut Design & Construction | 87 |
| 009826 | Coleman Utilities | 88 |
| 075647 | Mattuchio Construction Company, Inc. | 89 |
| 013165 | Susi,Mario & Son | 90 |
| 006715 | T G O'Connor Contracting Co | 91 |
| 095091 | R.M. Pacella | 92 |
| 000388 | Turner Construction Co | 93 |
| 037880 | Union Construction Inc | 94 |
| 093252 | C. Naughton Corp | 95 |
| 006123 | Geo Logic Earth Exploration, Inc. | 96 |
| 009875 | GVW Inc | 97 |
| 006479 | J Marchese & Sons | 98 |
| 061895 | Keane,Michael | 99 |
| 086580 | Mr. Drain | 100 |
| 011724 | R F Roach Co. | 101 |
| 061205 | Trainor Construction | 102 |
| 005548 | Bligh Construction | 103 |
| 026870 | Ferrara Construction Corp | 104 |
| 053443 | G A Donovan / Management Consulting Corp | 105 |
| 002914 | GTI Properties | 106 |
| 062917 | Sweet Meadow Inc | 107 |
| 027936 | C R C Co Inc | 108 |