City Joins Nuestra Comunidad in Breaking Ground at Blue Hill Avenue's Kasanof Bakery Site
|



|
More
Mayor Lauds Redevelopment of Last Large Privately Owned Site between Dudley Square and Grove Hall
Mayor Thomas M. Menino and City officials today marked a major milestone in the continued revitalization of Blue Hill Avenue in breaking ground for Nuestra Comunidad Development Corporation's $22.2 million mixed-use development at the former Kasanof Bakery site located half way between Dudley Square and Grove Hall. Once completed, 48 new units of affordable housing and 3,650 square-feet of commercial space will occupy the nearly three-acre site, which has been vacant since the Kasanof Bakery closed in the 1970s.
"The redevelopment of the Kasanof site marks major progress in completing the revitalization of Blue Hill Ave. Most importantly, it will bring life to what has been a huge hole in the neighborhood," said Mayor Menino about today's groundbreaking event. "I want to thank Nuestra Comunidad for their commitment to the community, and I want to thank the neighbors who have stuck with us during this process. We've all been waiting a long time to see this lot returned to a productive use for the Roxbury community – and that day has arrived."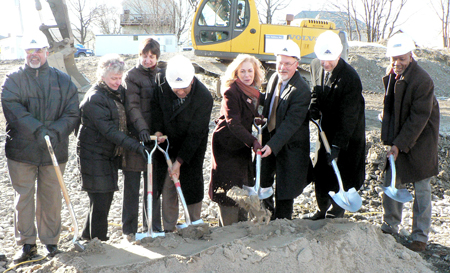 The development will be situated on the last large, privately owned vacant parcel on Blue Hill Avenue, a significant step for the City's Blue Hill Avenue Revitalization Initiative that Mayor Menino launched just after taking office in 1994. Since announcing the comprehensive redevelopment effort, the stretch of Blue Hill Avenue from Dudley Street to Grove Hall has benefited from close to $1 million of public and private investment in housing, commercial development, and infrastructure improvements, among other areas.
Prior to the bakery, the site had been home to residential, manufacturing and commercial uses, including a patent leather manufacturing company, a laundry facility, and a warehouse. Beginning in the mid-1960s, the Kosher certified Kasanof Bakery opened on the site and provided baked goods to Boston and the region for more than 10 years. The building was later torn down, creating the vacant lot that Nuestra Comunidad acquired in 2003. The organization solicited community input for the lot's redevelopment over a two-year period, and the current plan for the mixed-use development was agreed upon in 2006.
"The Kasanof Development is breaking ground at a critical time for our community-- it will not only add much-needed housing and retail space, but also employ over 120 individuals," said David Price, Executive Director of Nuestra Comunidad. "We at Nuestra are very excited about the short- and long-term benefits this project will provide to our community."
Once completed in the Fall of 2010, the 72,000 square-foot, four-story building will boast 48 units of affordable rental housing, 3,650 square feet of retail space on the first floor, a community room, and a common indoor space for use by residents of the development. Thirty-eight of the units will be marketed to households earning 60% or below of the Area Median Income (AMI), and the remaining ten units will be marketed to households with incomes at or below 30% AMI. The building's three separate commercial spaces will be leased to tenants for a variety of possible retail uses.
In accordance with the City of Boston's Green Affordable Housing Program, the Kasanof Bakery Apartments will utilize solar power, boast a geothermal water arrangement as part of a high-efficiency heat pump system, and employ environmentally friendly design features throughout the building. These 'green' elements were made possible, in part, by a grant in the amount of $140,000 from the Massachusetts Technology Collaborative (MTC) for green development efforts. The project will earn the distinction of LEED-Homes "Silver" certifiable, and will also meet the U.S. Environmental Protection Agency's Energy Star building standards.
The development project will make available 60 full-time construction jobs that will engage workers in new 'green' construction methods, materials, and systems. Boston residents may access these jobs through an application process that is being co-managed by Project RIGHT, Quincy-Geneva Community Development Corporation, and CWC Construction.
Among other funding sources, the Kasanof Bakery Apartments received over $4 million in funding assistance from the City of Boston, more than $2 million from the State's Department of Housing and Community Development.
###