Mayor Menino Celebrates Boston Main Streets Achievements at 13th Annual Awards Ceremony
|



|
More
Mayor Honors Close to 40 Individuals and Businesses for Their Dedication to Boston's Neighborhood Business Districts

Mayor Thomas M. Menino, together with Department of Neighborhood Development Director Evelyn Friedman, and WPLM Easy 99.1's "Strictly Sinatra" host Ron Della Chiesa, on Thursday, June 11th presented awards at the Boston Main Streets (BMS) 13th Annual Awards Ceremony, which took place at the University of Massachusetts Boston in Dorchester. Awards were presented to the 2008 Boston Main Streets Volunteers of the Year and Businesses of the Year.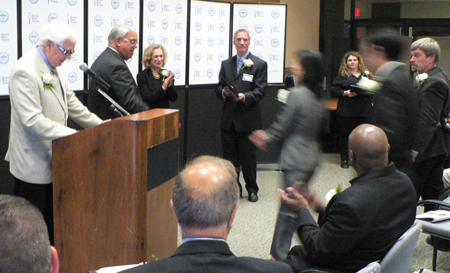 Mayor Thomas M. Menino and DND Director Evelyn Friedman honored Boston Main Streets volunteers and businesses who helped revitalize Boston neighborhoods in 2008.
"Boston Main Streets has had tremendous success in helping to revitalize our neighborhood commercial districts, and there are many people here tonight to thank for all their hard work in helping us make that possible," said Mayor Menino. "This event is special because we get to honor the people in the neighborhoods who are making our local commercial districts vibrant and welcoming places to shop and do business. I'm proud of the work they do."
Developed out of a partnership between the City of Boston and the National Trust for Historic Preservation, the Boston Main Streets initiative was created by Mayor Menino in 1995 as the first urban, multi-district Main Streets program in the nation, with the goal of establishing thriving commercial districts throughout the city. Named by the Pew Partnership for Civic Change as one of 19 "Solutions for America," Boston Main Streets continues to empower individuals in both the small business sector to have a direct role in the economic health, physical appearance, and development of their own community. Today, Boston Main Streets provides funding and technical assistance to 19 neighborhood-based Main Streets districts throughout the City of Boston and has served as a national model to urban areas seeking to revitalize neighborhood commercial districts including Baltimore, Washington, D.C., Milwaukee, Detroit, and New Orleans.
In 2005, Boston created the Boston Main Streets Foundation, a 501(c)(3) non-profit organization established to produce significant advances in business development, jobs creation, storefront improvements, and overall quality of life in Boston's neighborhood commercial districts.
In 2008, hundreds of Main Streets volunteers gave more that 19,500 hours of time, each district has chosen one volunteer to honor as "Volunteer of the Year." Since the start of the program in 1995, over 200,000 hours of volunteer time have been contributed to Main Street efforts. This year's Outstanding Volunteers are:
Allston Village – Paul Loiselle
Bowdion/Geneva – Remetrious Rogers
Brighton – William Marchione
Chinatown – Frederick Ng
Dudley Square – Kenneth Myers
East Boston – Arthur McCarthy
Egleston Square – Solomon Lemma
Fields Corner – Ira Schlosser
Four Corners – Cheryl Niamath
Greater Grove Hall- Walter Little
Hyde/Jackson Square – Damaris Pimentel
Hyde Park – Scott Battey
JP Centre/South – Russell Moore
Mission Hill – Galen Gilbert
Roslindale Village – Brad Harris
St. Mark's Area – Rachel Hronek
Upham's Corner – Nicole Day
Washington Gateway –Michael Bond
West Roxbury – Janet Bakas
In his remarks to awardees, Mayor Menino referred to Boston's small businesses as "the heart and soul of our commercial districts" that provide the products and services that are so important to the people who live and work in the neighborhoods. Each Main Streets district has chosen one business to honor as Business of the Year. The 2009 Outstanding Businesses are:
Allston Village – 379 Club
Bowdoin/Geneva – Mythos Pizza
Brighton – Brighton Volvo Village
Chinatown – CVS Pharmacy
Dudley Square – A Nubian Notion
East Boston – Great Chef Chinese Restaurant
Egleston Square – Extra Space Storage
Fields Corner – Pho Hoa Restaurant
Four Corners – Four Corners Pizza Cafe
Greater Grove Hall – La Newton School of Beauty Culture
Hyde/Jackson Square – Revolution Bicycle Repair
Hyde Park – Townsend's Restaurant
JP Centre/South – Petal and Leaf
Mission Hill – JP Licks
Roslindale Village – Boschetto Bakery
St. Mark's Area – Dot-2-Dot Cafe
Upham's Corner – Citizens Bank
Washington Gateway – Aquitaine Group
West Roxbury – iScream Works