Mayor Awards $15.7M in Loans to First Boston Invests in Growth Projects
|



|
More
Says City Will Apply for Additional Federal Funds to Help Move
Stalled Development Projects Forward
Mayor Thomas M. Menino today announced the City has committed to issue the first Boston Invest in Growth loans, enabling important developments to move forward in three Boston neighborhoods, including a new shopping center in Hyde Park; a neighborhood market in South Boston, and a brand new hotel in the City's Theater District. The three projects represent a $230 million economic investment, and are expected to generate more than 650 new permanent jobs and hundreds more construction jobs in Boston.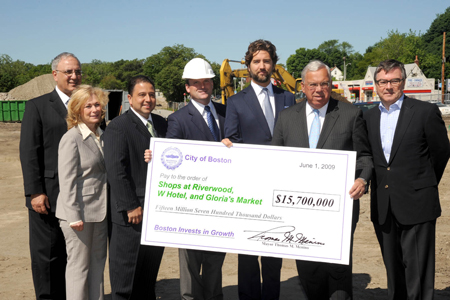 Mayor Menino announced the City's commitment to support the three development projects to the tune of nearly $16 million in loans.
"We created Boston Invests to ensure that downtown Boston and our neighborhoods would not be deprived of important community development. And we're extremely pleased to be part of the effort to help these developments move forward despite a tough economy," Mayor Menino said. "Not only will these projects add to the vitality of their neighborhoods, they will also put hundreds of people to work. Boston Invests is another way we are working to keep Boston's economy strong."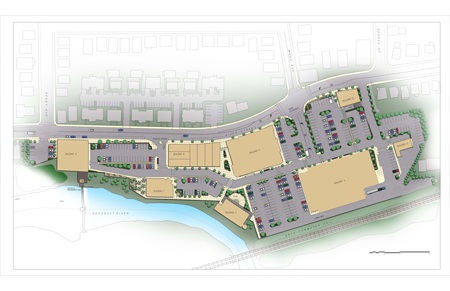 The Shops at Riverwood, one of three projects to benefit from Boston Invests in Growth, is a $33 million development on River Street in Hyde Park that will bring a long-awaited shopping center to the area.
The $40 million loan pool, made possible by U.S. Department of Housing and Urban Development (HUD) Section 108 funding, provides mezzanine financing for those projects that have both permanent financing and equity already in place, and was first announced by Mayor Menino in a speech to the Greater Boston Chamber of Commerce this past winter. Since February, the City has received more than a dozen applications for funding, the first three loans of which, announced today, are expected to close later this month.
Joined by City representatives, neighborhood residents, and members of Boston's development community, Mayor Menino announced the City's commitment to support the three development projects to the tune of nearly $16 million in loans, at the future site of The Shops at Riverwood in Hyde Park. The $33 million project located on River Street just outside of Cleary Square, which began site preparation in early 2009, will bring a long-awaited shopping center to the Hyde Park community, including a bank, grocery store, additional retail, and the rehabilitation of the parcels existing powerhouse and smokestack.
A Boston Invests loan to Sawyer Enterprises' W Hotel, located in Boston's Theater District, will allow construction to be completed on the mixed-use project that includes 235 hotel rooms and 123 residences, so that it may open later this year. Mayor Menino also said that loan would enable Gloria's Market, located on West Broadway in South Boston, to open this coming fall in the ground floor of the Court Square Press Building directly across from the Broadway MBTA stop.
Among other criteria, applicable projects must be over 20,000 square-feet, and must be able to create one full time equivalent job for each $35,000 invested, which must be available to persons of low and moderate income. In addition, 10% of the loan pool has been set aside for smaller neighborhood based projects of at least 5,000 square feet. City officials have said the initiative could generate as many as 2000 permanent jobs, hundreds of construction jobs, as well as an increase in linkage funds and annual tax revenue for the City.
The City's Department of Neighborhood Development (DND), which is responsible for the loan pool's administration, is working with other current applicants and expects to issue additional loans this summer. Meanwhile, DND is in the process of applying to HUD for additional funds, which could bring the total funds available for stalled commercial projects to $70 million.
Since early 2008, the financing of commercial real estate has become significantly more difficult, with banks and other lenders having tightened their underwriting standards. While banks and equity investors may cover about 90% of commercial real estate development costs, many large projects are often left to close the remaining 10% gap between first position debt and equity.
Boston Redevelopment Authority officials said that there are currently a number of commercial projects in Boston that have all of their building permits and other approvals necessary to start construction, but have been delayed because of this last percentage gap in their financing. Boston Invests in Growth is designed tofinance the gap that remains between the financing and equity and the total project cost.
###