Mayor Menino Celebrates Continued Progress in Hendry Street Area
|



|
More
Lauds FIT, Local Reinvestment Efforts in the Neighborhood Known as Hardest Hit by Foreclosure
Mayor Thomas M. Menino today joined the City's Foreclosure Intervention Team (FIT) for a ribbon-cutting ceremony at 15 and 17 Hendry Street, the first two of four formerly foreclosed three-decker homes that were acquired by the City of Boston last year from banks and then sold to a local developer, Bilt-Rite Construction, for redevelopment. The two neighboring properties, 19 and 21 Hendry Street, are near completion and are expected to be ready for homebuyers by mid-summer.
"Our Foreclosure Intervention Team continues to work collaboratively to stabilize this neighborhood. Although we've made noticeable progress, we still have work to do. This is not a fast or easy process," said Mayor Menino. "By designating this, and other fragile sections of the City as FIT areas, we've been able to make a difference in restoring our neighborhoods that have been troubled by foreclosure-related blight and crime. Most importantly, with the help of partners like Bilt-Rite, we're going to return houses like these ones on Hendry Street back into homes that folks can once again be proud of."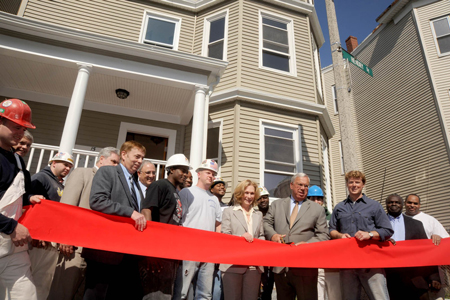 Joined by the Foreclosure Intervention Team (FIT), Mayor Thomas M. Menino cuts a ribbon in front of 15 and 17 Hendry Street, the first two of four formerly foreclosed three-decker homes that were acquired by the City of Boston last year from banks and then sold to a local developer, Bilt-Rite Construction, for redevelopment.
Immediate marketing efforts for 15 and 17 Hendry Street will be undertaken by Bilt-Rite with the assistance of the City's Boston Home Center. Bilt-Rite co-owner, John Sullivan, said an open house for the two three-unit homes would be scheduled in the near future, and encouraged anyone interested in learning more about the affordable homebuying opportunities to call Bilt-Rite at 617.541.9777, or the Boston Home Center at 617.635.HOME.
In February of 2008, the small, four-block Hendry Street area was plagued by as many as 16 troubled properties and a handful of related crime issues. The FIT immediately began to focus its resources and services in the area, including an increased police presence, homeowner education workshops and the provision of social services to residents. The City also made a variety of physical improvements to the neighborhood, including the removal of graffiti, repaving of roads, planting of new street trees, and replacements of streetlights.
Last spring, the City, acting through the Boston Redevelopment Authority, acquired 15, 17, 19, and 21 Hendry Street (a total of 12 units) and issued a Request For Proposals (RFP) for their rehabilitation and resale as four owner-occupied triple-decker homes. Bilt-Rite began construction on the properties in December of 2008. In response to the overarching investment by the City, private homebuyers have since purchased homes in the area, and today, Mayor Menino noted, all but two of the original 16 troubled properties are being rehabbed and readied for new homeowners.
Today's ribbon-cutting is symbolic of the City's comprehensive approach to foreclosure and related issues in recent years. Since first announcing the formation of this cross-departmental team in 2008, in which Mayor Menino said the City would work collaboratively to stabilize neighborhoods disproportionately affected by foreclosure, the City has received upwards of $8 million in state and federal funds to assist in these efforts.
Among other things, Menino said the funding is supporting the responsible redevelopment of foreclosed homes, of which Boston currently has approximately 970 scattered primarily in the neighborhoods of East Boston, Dorchester, Hyde Park, Mattapan, and Roxbury. The City continues to acquire properties directly from lenders, and has developed a variety of programs to provide new homebuyers of foreclosed properties with enhanced downpayment and rehab assistance, as well as to provide subsidies for private and non-profit developers to rehab foreclosed homes into homeownership, rental, or supportive housing. Under the guidelines of these new programs, eligible buyers of 15 and 17 Hendry Street could receive $25,000 in financial assistance at the time of purchase.
Menino said that the FIT team is actively working in the Dacia Street FIT area in Roxbury, a neighborhood where foreclosures are not as concentrated as in the Hendry Street area, but rather scattered throughout a larger geographic section. Over the past year, the City and its development partners have prioritized several vacant, foreclosed properties for redevelopment. These include 21 Dacia Street, now undergoing renovation, and 42-44 Woodbine Street, which Nuestra Comunidad Development Corporation acquired earlier this year and has slated for rehab. Menino noted that This Old House, the PBS home improvement television series that is based in Boston, is filming the renovation of the Woodbine property.
The City's Department of Neighborhood Development (DND), which has been tracking foreclosure data since the late 1990s, says Boston has been affected by approximately 2,300 foreclosures since late 2006, when the City's Foreclosure Prevention initiative took off. Since then, however, the City has been able to help more than 575 homeowners avert foreclosure, preserving over $170 million dollars in home values.