Mayor Menino Announces $503,500 in EPA Brownfields Grants
|



|
More
Says Grants Will Enable Revitalization of Three Underutilized Parcels
Mayor Thomas M. Menino and Department of Neighborhood Development (DND) Director Evelyn Friedman today announced that the U.S. Environmental Protection Agency (EPA) has awarded the City of Boston more than $500,000 in Brownfields grants for the clean up of three former industrial sites in Hyde Park, Roxbury, and Dorchester. The grants, awarded through a competitive national selection process, represent three of nineteen grants that the EPA awarded to Massachusetts communities and regional councils to clean contaminated areas.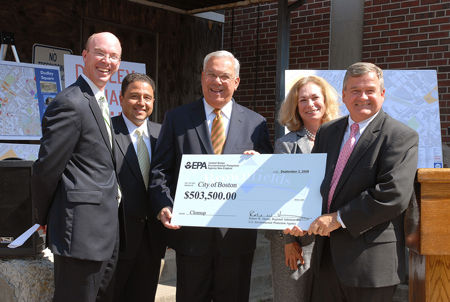 On Wednesday, September 3, 2008, Mayor Thomas M. Menino announced that the Environmental Protection Agency (EPA) awarded the City of Boston $503,500 in Brownfields grants. Pictured here from left to right are Jim Hunt, Chief of Environment and Energy for the City of Boston; Boston City Councilor Robert Consalvo; Mayor Thomas Menino; Evelyn Friedman Chief and Director of the Department of Neighborhood Development; Robert Varney, U.S. E.P.A. Region One Administrator.
"This generous grant from the EPA means that we can not only ensure the public safety of these sites in our neighborhoods, but we can also begin to revitalize these areas for productive use," said Mayor Menino from the site of the former Modern Electroplating and Enameling Facility in Roxbury. "These grants will help us to evaluate the properties, clean up the problems, and begin moving forward with the process of restoring them to a useful state."
At the former Modern Electroplating and Enameling Facility, grant funds will be used to remediate contamination stemming from a variety of metals and volatile organic compounds. The redevelopment of the former Modern Electroplating site is part of a larger planning and redevelopment effort for Dudley Square. Once remediation is complete, the City will build a state-of-the art police station (B2 Police Station) due to open its doors in October 2010. The remainder of the site and the existing police station will be used to assemble a developable site for retail and office space. Plans and site preparation are underway for the development of a new municipal building located at the former Ferdinand and Guscott buildings. Working with the Dudley Vision Advisory Task Force, the Dudley Vision Working Group has also begun a Transportation Action Plan, a Dudley Vision Retail Strategy, and a Quality of Life & Public Health Strategy.
Grant funds for the former Lewis Chemical Corporation on Fairmont Court will enable the clean up this facility, which was, at one point a facility that collected, processed, and transported hazardous waste until it closed in 1983. Significant concentrations of volatile organic compounds and Polychlorinated biphenyls (PCBs) have been detected in the soil and groundwater at the site. Cleanup of the former Lewis Chemical site will help ongoing revitalization efforts along the Neponset River. Community groups have discussed reuse of the site for a variety of commercial, retail, and recreational purposes.
EPA funding will also help to remediate hazardous substances at 191 Bowdoin Street in Dorchester, a site formerly occupied by a gas station. Elevated concentrations of heavy metals and polynuclear aromatic hydrocarbons have been detected here. Cleanup of the Bowdoin Street property is expected to pave the way for new development of functional community space.
The EPA estimates that every acre of reclaimed Brownfields saves 4.5 acres of greenspace. In turn, that reclaimed greenspace has, on average, doubled the value of surrounding properties.
###