Mayor Menino Delivers Annual Address to Boston Municipal Research Bureau
|



|
More
Announces 5 bold plans for Boston

With expansive views of the Boston skyline and waterfront, Mayor Thomas M. Menino delivered his annual speech to the Boston Municipal Research Bureau today at the Seaport Hotel. Calling the speech, "Boston: Opportunities for our Future," Mayor Menino rolled out five bold plans for the future of the city in front of hundreds of Boston's most prominent business leaders.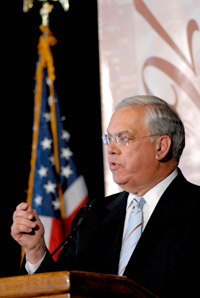 "I believe Boston can be the most inviting, empowering and captivating city in the world," Mayor Menino said. "Without a blueprint that beckons Boston to be even better, it's easy to succumb to simple solutions that are unbecoming of a city as great as ours."

The City's vision for the future balances exciting potential with a growing population, greater sustainability and innovation, while at the same time preserving the character of Boston. "Some will say that these goals are too difficult to accomplish. But strong leadership requires taking on the tough challenges and providing a comprehensive plan to push forward," the Mayor added.

The Mayor's five major announcements for the future of Boston are:
Increasing the green space in our downtown neighborhoods and reconnecting the Boston Public Garden and the Charles River as we work with the state to reexamine Storrow Drive and other area roads that need repair;
Creating a new neighborhood between downtown and Allston that captures and strengthens the growing residential population, biotech giants, universities and the Charles River;
Rejuvenating Dudley Square with the complete renovation of the Ferdinand Building, preserving the historic façade while developing a 200,000 sq. foot green building, complete with City offices, retail and public space;
Strengthening the Newmarket Business District, often the backbone of our local economy's largest contributors, with an infusion of City services and infrastructure improvements and a long-term plan for City-owned parcels;
Finally, developing a comprehensive zoning plan for the property encompassing the Rose Kennedy Greenway, setting guidelines for height, density, light and transportation. "We have spent a lot of money to take the cars out of this corridor," Mayor Menino said, "we shouldn't let development take the sun out as well."
Mayor Menino has directed a new team, consisting of BRA Director John Palmieri, DND Director Evelyn Friedman, and the City's Chief Planner Kairos Shen, to present an action plan for these five initiatives to him by Labor Day.
Boston is at the threshold of opportunity with 60 development projects and more than 14 million square feet under construction right now. Mayor Menino pointed out that even with a slowing national economy; Boston continues to charge ahead not only in development, but by hosting international conventions, movie shoots and big-time sporting events. This historic time deserves bold plans to move this city forward while preserving the past, maintaining the city's uniqueness in the future, and building on Boston's neighborhood pride.
"We must capture the opportunities that will improve Boston's physical, economic and social landscape for the next century. We all know Boston is a great city. But join me in envisioning a Boston that is even greater," Mayor Menino said.
Read the Speech

Watch the Video