Mayor Convenes Foreclosure Intervention Team
|



|
More
City Close to Acquiring Several Hendry Street Properties for Re-Disposition

Mayor Menino today convened his Foreclosure Intervention Team (FIT) in a newly-created 'war room' to review progress made on a number of levels by Cabinet members and City staff since its creation two weeks ago. The first focus of the FIT has been the Hendry Street neighborhood, a small area in Dorchester that has been ravaged by foreclosures and abandoned properties. At today's meeting, Mayor Menino lauded the team for its expedited efforts to acquire three Hendry Street properties with the intention of determining an appropriate disposition plan in the near future.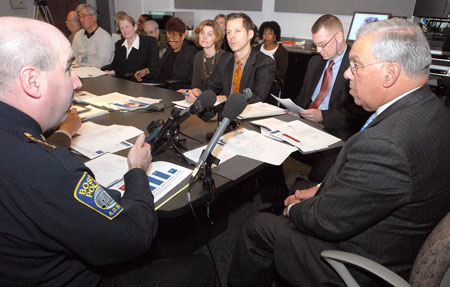 "We are working diligently to get this neighborhood back on its feet again, and important progress can already be seen," Mayor Menino said. "My staff has been out in the area everyday surveying the empty properties – and working with residents who, we know, deserve to get their neighborhood back. There is a lot of work yet to be done."
There are more than 10 boarded buildings stretching along Hendry, Coleman, and Clarkson streets in Dorchester, many of which are the result of foreclosures and properties abandoned by their owners. The 'FIT war room' will serve as a central location for information-sharing and progress meetings on foreclosed and real estate-owned properties throughout the City.
Since announcing the FIT on February 14th, the group of City department representatives have made significant physical improvements to the four-block area, including: properly securing abandoned homes, removing graffiti, replacing missing street and parking signs, and towing abandoned cars. In addition, streets, sidewalks, and empty lots have been swept of debris and household trash.
Today's meeting included an update on the City's progress to acquire empty properties from the mortgage companies that are currently servicing them. The Mayor's housing advisor, Pat Canavan, said the City is currently negotiating offers to purchase three different buildings on Hendry Street, which include 6 condos and a three-family, to be managed by the City's Department of Neighborhood Development until an appropriate disposition plan has been determined. Potential disposition plans for the dwellings include their redevelopment for homeownership and/or rental use, with a continuing involvement by FIT until the area no longer requires intensive assistance. Canavan speculated that a Purchase and Sale agreement could be executed on the two condo buildings as soon as one week from now.
Mayor Menino also said that staff from the Mayor's Office of Neighborhood Services, Department of Neighborhood Development, Rental Housing Resource Center, and Boston Home Center have been visiting homes on a near-daily basis to deliver information about a number of resources available to residents, including foreclosure information, landlord and tenant rights, substance abuse counseling, the Mayor's Health Line, and information on summer jobs for youth, among other areas.
FIT is compiled of the many City agencies who deal with all issues that surround foreclosure and abandonment, including Boston Police, Inspectional Services, Department of Neighborhood Development, Public Health Commission, Corporation Counsel, Public Works, Boston Redevelopment Authority, Transportation and Public Property.