Governor Deval Patrick Honors Boston Firefighters
|



|
More
On November 7, 2007 the Massachusetts Firefighter of the Year Award Ceremony took place at historic Faneuil Hall. There, firefighters from throughout Massachusetts were recognized for their heroic actions at incidents in the past year. Among these firefighters were four from Boston.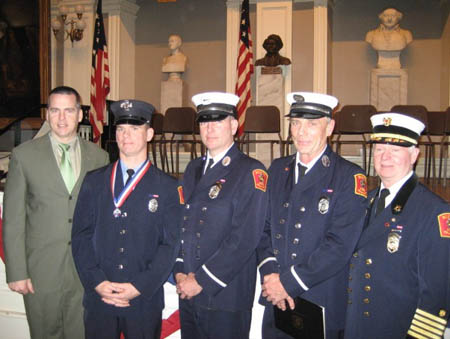 (L-r) Fire Commissioner Roderick Fraser, Firefighter Andrew Lee, Lt. James O'Brien, Lt. Michael Aylward and Chief of Department Kevin MacCurtain
Governor Deval Patrick presented a Meritorious Award to Lt. Michael Aylward of Ladder 6 for his actions on November 19, 2006 while rescuing a woman trapped in a fire in Dorchester.
Not able to be present but also receiving a Meritorious Award was Firefighter Joseph Bacchi of District 5 for his actions on September 9, 2006 while rescuing several trapped people at a fire in Roxbury.
The Governor presented a Patriot Award to Lt. James O'Brien of Engine 50 for his actions on the battlefield in Iraq while serving as a Navy corpsman. Lt O'Brien came to the aid of a wounded soldier while under heavy fire from insurgents.
Finally, Governor Patrick presented to Firefighter Andrew Lee of Engine 24 the Medal of Honor for rescuing three trapped children at an apartment building fire on February 10, 2007 in Dorchester.