Chief Chaplain Father Daniel J. Mahoney Honored
|



|
More
The Boston Fire Department's Chief Chaplain Father Daniel J. Mahoney has been honored with the prestigious Mychal Judge Award by the Massachusetts Corps of Fire Chaplains.

This award was named in honor of Father Mychal Judge, the Fire Department of New York's Chaplain who was the first known victim of the September 11, 2001 terrorist attacks.

Father Mahoney was ordained a Priest in 1956.He was assigned to St. Francis de Sales Parish in Charlestown in 1968 and has served as pastor since 1978.

In 1964, Father Mahoney began his association with the Boston Fire Department as Assistant Chaplain and became its Chief Chaplain in 1991. In these roles, Father Mahoney has responded to hundreds of incidents and offered comfort to all firefighters and their families.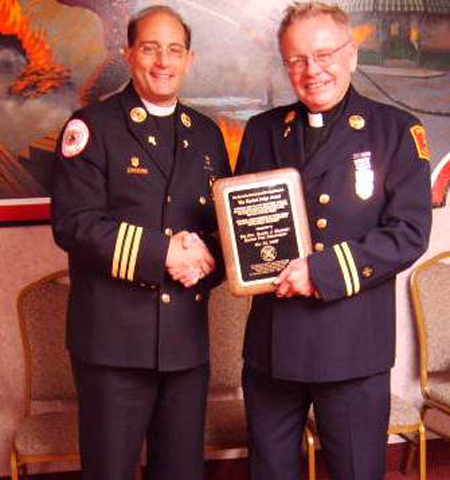 Father Larry Provenzano (l) presents Chief Chaplain Father Daniel Mahoney (r) with the award.