Mayor, Business Community Celebrates Successful First Year of Boston Buying Power Initiative
|



|
More
City's Energy Broker Partner Opens Sales Office in Downtown Crossing
Mayor Thomas M. Menino today joined the City's partner in its Boston Buying Power initiative, Taylor Consulting and Contracting, for a celebration of the program's successful first year and grand opening celebration of their new downtown Boston office. In just 10 months, more than 800 commercial and industrial companies and non-profit organizations have joined the innovative bulk-buying group that allows them to purchase energy at a long-term fixed price through access to the deregulated energy market. Taylor estimates that Boston Buying Power has already generated a total savings of $1.2 million in monthly electricity and gas costs for participating businesses.
"Last year, we welcomed Taylor Consulting to Boston as our partner on this cost-saving initiative. Today, we are celebrating the rapid success of this program and we welcome them as our newest neighbor in Downtown Crossing," Mayor Menino said. "Boston Buying Power has proven to be a tool for our business community that provides long-range stability at a time of otherwise uncertainty. In this economy, we're helping businesses protect jobs and keep goods and services on the shelf."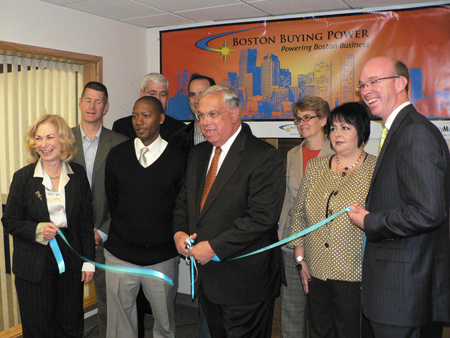 Mayor Menino joined representatives from Boston's business community to cut the ribbon for the new Boston Buying Power office in Downtown Crossing.
Mayor Menino launched the initiative last November at Model Hardware in Allston Village after the national utility management firm based in Pennsylvania was selected to create an energy-buying group to work directly with businesses to monitor the energy market and procure energy supply.
Since that time, the City's Department of Neighborhood Development (DND) has worked closely with Taylor's sales team to grow the buying group through meetings with boards of trade, chambers of commerce, and other business networking groups across the City. Taylor's Chief Operating Officer, Scott Stiner, said the local office will allow them to better serve Boston Buying Power participants, and reach out to more business owners, among other benefits.
-MORE-
Taylor is in the process of hiring as many as 10 new employees to staff the office. Several city officials from across the country have contacted the firm about replicating the program in their city.
"We are pleased to be opening our Boston office and becoming a member of the local business community," said Stiner. "This program can be attributed to a lot of hard work by the staff of Boston Buying Power and the City of Boston. We look forward to expanding the services of Boston Buying Power and continuing to provide value to local companies."
Many of Boston's small businesses utilize major utilities such as NSTAR or National Grid for their energy supply, and pay a pre-determined cost for access to the market, as well as the cost a company charges to bring the service to the customer's door. Boston Buying Power allows participants to still pay for the delivery of service through the major utilities but pay less for the energy itself because the partnership accesses the energy market directly through experienced wholesale market negotiators who are able to secure lower prices.
The initiative also provides businesses access to programs and services that help with the process of reducing and managing their consumption of gas and electric, increasing energy efficiency within the Boston business sector. To this end, every group purchase now includes a 10% renewable 'green' source, and businesses can upgrade up to 100% 'green' power, if they choose.
Businesses interested in learning more about Boston Buying Power should visit www.bostonbuyingpower.com, or call 888.317.3923.
###