Mayor Menino Breaks Ground for Palmer Street Development
|



|
More
Development is First New Private Office/Retail
Development in Dudley Square in Decades
Mayor Thomas M. Menino, joined by Bishop Gilbert A. Thompson and representatives from the Massachusetts Housing Investment Corporation (MHIC), today broke ground for the Warren/Palmer Street development, which involves the construction of a 30,000-square-foot, three-story office and retail building. The development will turn a long- vacant parcel into office and commercial space and bring new jobs and services to the community. It will also be the first new private commercial construction project in Dudley Square in 40 years.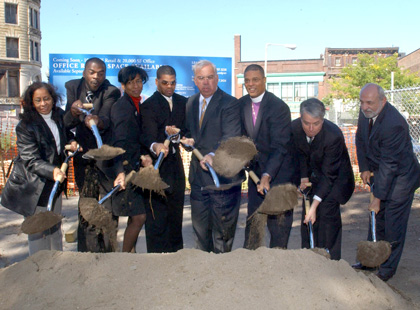 "While others are looking for excuses not to invest in Dudley Square, we are providing new tools and new resources to get the job done," Mayor Menino said. "By strengthening our neighborhoods, we are bringing real hope and real opportunity to many of our residents. And when our neighborhoods are strong, that makes Boston a more vibrant city."
This economic development project is being developed by New Covenant Christian Church and financed through developer equity, MHIC's first round of the New Markets Tax Credit (NMTC) program funds, and Department of Housing and Urban Development (HUD) Section 108/EDI funds committed through the City of Boston's Department of Neighborhood Development (DND), and construction and permanent financing through the Property & Casualty Initiative.
New Markets Tax Credits are used to attract private-sector capital investment into urban and rural low-income areas to help finance community development projects, stimulate economic opportunity, and create jobs in the areas that need it most. The Palmer Street development could not have moved forward without MHIC's NMTC financing. In the first round of tax credit allocations, the City of Boston, via DND, partnered with MHIC on three commercial projects using an allocation of $50 million in NMTC funds. Two of the projects are located in Dudley Square-Palmer Street and Hibernian Hall. Hibernian Hall will soon be home to the Roxbury Center for Arts, Culture and Trade. The third project, 143-153 Border Street in East Boston, involves the development of a new, three-story building as the new headquarters for both NOAH and Project Bread, Inc.
Mayor Menino was also joined by Charlotte Golar Richie, Director, DND, and chief of housing; City Councilor Chuck Turner; Mark Maloney, Director, Boston Redevelopment Authority; Bishop Gilbert Thompson of New Covenant Christian Church; Joseph Flatley, President and Chief Executive Officer, Massachusetts Housing Investment Corporation; Chuck Grigsby, Director, The Life Initiative; Stacey Townsend, President, Property & Casualty Initiative; staff from Bergmeyer Associates, Seth Ravitz Associates, and Boston Connects, Inc., Bob Terrell, Roxbury Neighborhood Council; Bishop Gilbert A. Thompson, Black Ministerial Alliance; Joyce Stanley, Dudley Square Main Streets and local residents.