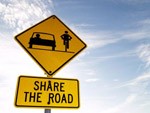 Bike Commuting Tips
+Expand All Answers
Why Commute by Bike?

Enjoy your commute
Arrive at work refreshed and full of energy; ride off stress after work.


Stay fit
Commuting allows you to include a workout in your daily schedule.


Fight pollution
Bicycles add no pollutants to the atmosphere.


Avoid traffic delays
Off-road trails and bike lanes and wide curb lanes allow you to ride past traffic.


Save money
Maintenance costs for your automobile will decrease, as will your gas bill.

Overcoming Bike Commuting Excuses

I'm out of shape
Ride at an easy pace; in a few months you will be in great shape.


It takes too long
Trips of less than three miles will be quicker by bike, and trips of five to seven miles in urban areas may take the same time or less as by car.


It's too far
Try riding to work and taking mass transit home, then alternating the next day, or ride to a coworker's house and carpool to work.


No bike parking
Look around for a storage area in your building or office, or formally request that your employer provide bike parking.


My bike is beat up
Tell a reputable bike shop that you are commuting and have them tune up your bike to good working order.


No showers
Most commuters don't shower at work; ride at an easy pace to stay cool and dry. Health clubs offer showers; get a discounted membership for showers only.


I have to dress up
Keep multiple sets of clothing at work, or pack clothes with you and change at work.


It's raining
Fenders for your bike and raingear for your body will keep you dry. Or take a day off from riding!


The roads aren't safe
You are at no greater risk than driving a car. Obey traffic signs, ride on the right, signal turns, stop at lights, wear bright clothing, and wear a helmet every time you ride.


I have to run errands
Bolt a rack to the back of your bike to add carrying capacity.

Why Support Bicycle Commuting?

Individuals
Bike commuting cuts down on automobile traffic and pollution and put less wear on the roadways.


Businesses
Supporting bike commuters will earn you a loyal, healthy clientele and more parking spaces for your car-driving customers.




Communities
Fewer cars mean safer communities with lower speed limits and less congestion. More walkable and bikeable communities increase home values.


Governments
Car accidents involve far more fatalities per incident than bicycle accidents.
Savings can be realized from highway, emissions and environmental expenditures.
Bicycle infrastructure is inexpensive to build and maintain.



Police Bikes are involved in less severe accidents and fewer accidents per mile than cars. Bike-mounted police need bicycle-friendly infrastructure to patrol.

How to Commute By Bike

Share the road
Bicycles are vehicles and should act and be treated as such on the roadways.


Signals and signs
Obey all stop signs, traffic lights, and lane markings.


Safety
Be visible and predictable at all times. Always wear a helmet. Take the lane if necessary.


Route choice
Consider distance, traffic volume, road width and condition, and terrain.


Bike parking
Lock your bike to an immovable object in a visible area, or look for indoor parking in your office. If no parking is available, ask your employer to provide it.


Clothing options
If you have a short commute, ride at a relaxed pace in your work clothes. Cycling-specific clothing is an option for longer rides.


Showering
Many workplaces have showers located in the building; inquire about access. Some health clubs offer shower-only memberships for a few dollars a month.


The bike
Any bike in good working order is suitable for commuting. Consider adding fenders and a rack, and invest in front and rear lights.


Maintenance
Have your bike checked over by your local bike shop. Have them show you how to repair a flat, fix a chain, and inspect your brake pads for wear.


Weather
Fenders and rain gear keep out the rain. Use layers and wind proofing for cold days. Some cycling-specific gear can provide relief on hot days, and you'll also enjoy a breeze while you pedal!



Commuter Gear Basics

Picking a bike
Any bike is suitable for commuting if it is in good working order.


Carrying capacity
A rear rack and panniers, a basket on the front or a backpack all work well.


Fenders
Full fenders are recommended for rainy conditions; use quick release or standard bolt-on style.


Lights
Lights are mandatory at night, white in front and red for the rear.


Safety
Always wear a helmet while riding your bike no matter what. Know the rules of the road and act predictably.


Tools
Prepare for breakdowns with regular inspections of your bike. Carry a multi-tool with allen wrenches, screwdriver, chain tool; know how to use them.


Spare parts
Carry a spare tube and patch kit at all times; keep another spare at work. Keep a few spare parts that need regular replacement at work.


Lock
Use a high-security U-lock. Secure both wheels and other components if they can be easily removed.


Flat prevention
Pump tires up regularly and replace them when they are worn.


Reflectors
Wear bright or reflective clothing; apply reflective tape to helmet and bike. Ankle straps keep pant legs out of the chain and usually have a reflective strip.



Bike Security

Visibility
Lock your bike in a highly visible area close to pedestrian traffic and streetlights.


Securing your bike
Lock your bike to a large metal immovable object. Lock your frame, wheels, seatpost and anything else easily removed.


U-locks
Select a tempered steel U-lock with a cylindrical lock core that is impossible to pick or break.


Cable locks
Great for short time periods where your bike is highly visible and a low chance of theft, but lower security.


Carrying a lock
Most locks come with a mount for your bike to carry it. You can also stow a lock in your backpack, panniers, or any other bag.


Extras
Register your bike with local and national registration service. Register your key numbers with the company that made your lock. Mark your bike in an identifiable way to aid in its recovery if stolen.



Bikes on the T

Subway Weekdays before 7 a.m., between 10 a.m. and 4 p.m., and after 7 p.m. Weekends any time. Only 2 bikes per car.

Trolley (Green Line and Mattapan High-Speed Line) Not allowed.

Bus Only on external racks, which currently are only offerred on the CT-1, CT-2, and CT-3 routes. Not permitted on buses that substitute for rail.

Commuter Rail All trains except during weekday peak hours in the peak direction.

Ferry Boat All times.

Folding Bikes When folded, are permitted on commuter rail and subway any time, except that on the subway they must be in a bag.

Exceptions apply during holidays and special events.

Anticipating Motorist Errors

Left turn
Make eye contact when approaching a motorist positioned for a left turn ahead of you and maintain a straight line unless you need to execute a instant turn or quick stop.


Right turn
Right turning motorists may turn just after overtaking a cyclist. Watch the front wheel of the car or look for a signal and avoid them as they turn.


Crossing
Motorists may not recognize a cyclist's right to the road and pull out in front of them. Be visible and announce your presence verbally if needed.


Prevention
Always wear bright clothing and use lights to make yourself visible day and night. Ride predictably where you will be seen and always wear a helmet.


Assert yourself
Plan to take your right of way but be prepared to act to avoid collision. Use hand signals, a bell, your voice, anything to get the attention of motorists. Always be aware of a safe way out.



Rain Riding

Water on the road and on the bike can change the way that your bike handles. Be particularly aware of the following.


Cornering
Make your turns slowly and consistently; no jerky movements. Apply the brakes slowly.


Braking
Water on the rims will lubricate your brake system. Apply the breaks lightly to clean off the rims before you need to stop, and allow a greater distance for stopping.


Hazards
During the first few minutes of rain, oil seeps from the roadway making it very slick. Bridges, metal grates and painted lines and crosswalks can be slippery. Avoid puddles as they may conceal deep potholes.


Protect yourself
Visibility can be limited during a storm; wear bright clothing. Wear a hat with a brim under your helmet to maintain visibility. Wear waterproof clothing that is breathable with layers underneath.


Protect your bike
Front and rear fenders will keep you and your bike dry. Lube your chain before and/or after a wet ride to replace the lube that washed off. Drip chain lube down into your brake and shifter cables to avoid rust.