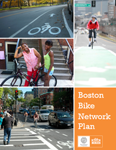 Encouraging more bicycle trips is an important component of the City's Climate Action Plan, which sets a 2020 target of increasing the share of commute trips by bike to 10 percent. The 2013 Cyclist Safety Report sets a goal of decreasing bicycle crashes by 50 percent in the same timeframe. The Boston Bike Network plan is intended to support the growing number of bicyclists and help the city reach its sustainability and safety goals.
The Boston Bike Network Plan:
Was developed with the input of city departments, state agencies, and hundreds of citizens who spoke up at open houses, made suggestions through an online mapping tool, or served on a Citizens Working Group.

Lays out a plan for creating safer streets for bicycling that will attract and support new riders while improving the safety and comfort of all bicyclists.

Identifies a comprehensive network of bicycle routes through the city, calling for 75 miles of new facilities in the next five years and reaching a network of 356 miles within 30 years.

Will be used by city departments, state agencies, and developers so that as they modify city streets they are helping.
View Interactive Bike Network Map
Boston Bike Network Plan 2013
Appendices