Application Process to Become a Boston Firefighter
People are hired to become Boston firefighters from a list provided by the Commonwealth of Massachusetts. Every two years Massachusetts administers a statewide general aptitude entrance test for firefighters at various locations throughout the state. This test establishes a hiring list for cities and towns including the City of Boston.
The last written exam was administered in April of 2014. The results of this exam will beome active in November of 2014 and will remain in effect until November of 2016.
---
Check Facebook for Employment Opportunities:
Like the Boston Fire Department on Facebook
---
City of Boston Qualifications
At The Time of The Test
You must be at least nineteen (19) years of age at the time of the application deadline and be younger than thirty-two (32) at date of the exam.

You must be a resident of the City of Boston at least one (1) year prior to the examination date to qualify for residency preference. Applicants who have resided in the City of Boston for an entire twelve month period immediately preceding the date of examination are entitled to be placed on the eligible list for Boston ahead of any non-residents.
For Appointment
Pass a written test for Fire Fighter administrated by the State.

Pass a Physical Abilities test administrated by the State.Pass a character background investigation.

Meet medical fitness requirements.

Have a valid Massachusetts driver's license.

Pass a drug test.

Pass a psychological exam.

Be a non-smoker.
For Completion of Probation
Complete all assignments of the academy.

Firefighter 1 and Firefighter 2 certification.

EMT certification.
---
Salary and Benefits
Boston firefighters begin with an annual salary of approximately $60,000. Other benefits include options for health insurance offered by BC/BS, Harvard Pilgrim and Tufts; 13 paid holidays, 15 sick days per year with sick leave buyback at retirement; Boston retirement System with the ability to retire as early as 55, paid vacation and opportunity to join the Boston Firefighter Credit Union.
More Information
Human Resources Division, Room 301
Commonwealth of Massachusetts 
One Ashburton Place
Boston, MA 02108
(617) 878-9895
www.mass.gov/civilservice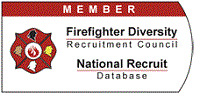 The Boston Fire Department is a proud member of the Firefighters Diversity Recruiting Council.