From the Desk of Jim Hunt 
I hope you find the information in our newsletters useful and informative.  My staff and I strive to keep you up to date on what the City's Office of Environmental and Energy Services is doing to Green Boston. We want to hear from you.  If you have an idea or if there is something you would like to comment on, please feel free to to contact me at environmental.energy@cityofboston.gov
                                        Thank You,
                                         Jim Hunt  
Call for Nominations for the Community Action Committee of Boston's Climate Action Leadership Committee
As part of the Boston's Climate Action Leadership Committee Mayor Menino has announced the formation of a Community Action Committee to advise the Leadership Committee in its year-long process to develop a climate action plan for entire Boston community.   Full details will be announced in the coming days, so please check the City of Boston Climate Action website next week for updates.
Solar Installation on Camp Harbor View
On Earth Day, Mayor Menino, unvieled the installation of a 16.7 kW solar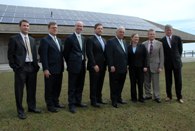 photo-voltaic system at Camp Harbor View on Long Island.  The $150,000 completed project will produce more than 500,000 kilowatt hours of electricity over the system's life for Camp Harbor View and is expected to prevent 287 tons of CO2 emissions over 25 years.  The project was made possible through a generous donation from Excellerate Energy and a grant from the Massachusetts Renewable Energy Trust.
To promote the largest available local energy resource, Mayor Menino's Solar Boston program focuses on mapping, marketing, and procuring solar energy systems citywide as part of an effort to meet the Mayor's ambitious 25 MW goal. 
City of Boston receives 2 EPA Environmental Merit Awards for 2009
On Earth Day, two City of Boston programs, Solar Boston and Lights Out Boston, received the 2009 US Environmental Protection Agency (EPA) Merit Awards.  Solar Boston was recognized for its innovative map of the city's solar resources, planning a procurement path for municipal solar installations and working with other agencies to promote solar power citywide.  Since the program began, solar capacity in Boston has more than tripled to 1.8 megawatts.  Lights Out Boston, a partnership of the City of Boston, large commercial properties, and the Mass Audubon Society, was recognized for promoting energy efficiency and for protecting migrating birds during the fall and spring migrations.  Over 34 commercial properties in Boston are participants, including iconic towers such as the John Hancock, the Prudential and International Place.  This is the second year in a row that the City of Boston has received an award from the EPA. 
FREE Electronic Waste Drop Off for Businesses and Residents
The Mayor and the City of Boston will host a FREE electronic waste recycling program for residents, and institutions

(governmental agencies, non profits, universities, hospitals, schools and businesses). This is a terrific opportunity to get rid of soon to be obsolete analog televisions, as well as your "retired" electronics and appliances such as computers, printers, cell phones, PDAs, camcorders, microwaves, VCRs, fax machines, copiers, telephones and other electronic accessories.  We cannot accept air conditioners, dehumidifiers, washers, dryers, stoves or refrigerators.  Hard drive and other memory devices will be physically destroyed. All e-waste will be disposed of in an environmentally friendly manner at a Massachusetts recycling facility.  No e-waste will be shipped outside of North America.  For a complete list of items visit www.boston.poweron.com.
The institutional e-waste is Friday, June 5 from 9 AM until 2 PM (pre-registration is required) at Boston Marine Industrial Park, 1 Dry Dock Avenue, South Boston, MA 02127.  Pre-register at www.boston.poweron.com.
The residential e-waste drop off is Saturday, June 6 from 9 AM until 3 PM (no appointment is necessary) at Bayside Expo Center, 200 Mount Vernon Street, Dorchester, MA 02125. (see map)
Boston City Hall Green Operations Event
To promote the Mayoral initiative to Green Municipal Operations, the Office of Environmental and Energy Services recently hosted a "Green Your Workspace" event for the City Hall employees in the main lobby at City Hall.  A number of City departments were on hand to present ways they are greening employees' workspaces and to offer easy tips on how employees can participate. Management and Information Services demonstrated their "thin client" work stations, the Purchasing Department promoted a number of office products made from recycled or non-toxic materials, the Public Health Commission demonstrated the benefits of green cleaning and the Public Works Department highlighted the success of the City Hall recycling program.  Our thanks to Green Mountain Coffee for supplying excellent fair trade, organic coffee to all who attended and for the generous donation of a coffee maker for the raffle.
City Officials appointed to Patrick-Murray Administration's Climate Advisory Committee 
Chief of Environmental and Enery Services Jim Hunt has been appointed to Governor Deval Patrick's Climate Protection and Green Economy Advisory Committee created under the Global Warming Solutions Act of 2008.  The Advisory Committee is charged with advising the Executive Office of Energy and Environmental Affairs on measures to reduce greenhouse gas emissions in accordance with the Act.  For more information see the Press Release.
Carl Spector, Executive Director of the Air Pollution Control Commission was appointed to the Commonwealth's Climate Change Adaptation Advisory Committee, also created under the Global Warming Solutions Act. 
3rd Annual Mayor's Green Awards
Mayor Thomas M. Menino honored numerous residents and businesses for their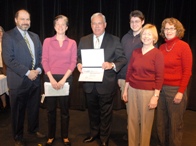 commitment to promoting environmentally sustainable practices in Boston during the Third Annual Mayor's Green Awards.  In total, the awards honored 3 residential leaders, 11 businesses, 4 hotels, and 33 bike-friendly businesses, including 2 that received special recognition. Visit the 2009 Green Awards for a complete list of green leaders in your neighborhood.  
Arbor Day Celebration, April 24, 2009
In celebration of Arbor Day and in conjunction with Boston's ongoing Grow Boston Greener Initiative, Mayor Menino, Environmental and Energy Chief Jim Hunt, and Parks and Recreation Commissioner Toni Pollak joined in at Noyes Park in East Boston to plant trees.  The celebration kicked off the planting season for Grow Boston Greener (GBG) by planting 40 trees in East Boston, which will help reach the City's goal of planting 100,000 trees in Boston by year 2020. The Arbor Day celebration was hosted by the Boston Parks & Recreation Department, in partnership with GBG and the Boston Urban Forest Coalition.  Mayor Menino was awarded a check totaling $710 from 13-year old Mike Kriesberg, a recent Bar Mitzvah from Temple Ohabei Shalom in Brookline, MA.  As part of his service component, Mike secured donations for GBG.  Thanks Mike for your "green" gift!  For more information please visit the Grow Boston Greener website.
Summer in the City on the Islands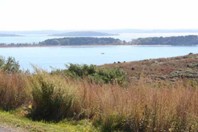 As you plan your summer activities, be sure to include the Boston Harbor Islands on your to do list.  Some of the activities to enjoy include overnight camping, walking trails, swimming, kayaking, birding, and sitting on a rocking chair on the porch at Spectacle Island's Visitor Center.  See Boston Harbor Island Alliance for the ferry schedule and a list of terrific programs from free jazz, children's theatre, and antique baseball.  
FREE Household Hazardous Waste Drop-Off
Take advantage of this opportunity to get rid of those household poisons that cannot be tossed into the trash. On Saturday, June 6 between 9 AM and 2 PM, at the University of Massachusetts, Morrissey Boulevard, Boston, residents of the City of Boston can bring poisons, paint, tires, car batteries, propane tanks, motor oil and other items for safe disposal.  Please visit the Recyling Department webpage for specifics.  Bring proof of residency. Place your items in a cardboard box for safe transport.