Mayor Menino Presents the State of the City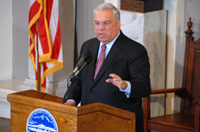 At his annual State of the City Address on January 13, Mayor Menino addressed the economic crisis we are facing, forecasting a $140 million shortfall to the city's budget due to cuts in aid from the state and decreased local revenues.  The Mayor continues to advance investments in clean technology and the creation of good green jobs.
Mayor Menino Pushes Local Clean Technology and Green Infrastructure as Part of the Nation's Economic Stimulus Package 
Working with President Obama's advisors and the Patrick-Murray Administration, Mayor Menino recently submitted his updated recommendations for the federal economic recovery package. These recommendations include $550 million of local projects that will create over 10,000 jobs and $2.5 billion in economic impact over two years. More than $100 million of Mayor Menino's proposals are related to clean energy and green infrastructure investments for Boston.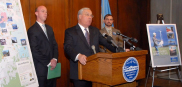 Mayor Menino annouced these requests at an event with local environment and labor leaders.  At the event, Environment Massachusetts unveiled a new report "Clean Energy, Bright Future: Rebuilding America through Green Infrastructure," which highlights the potential to reduce pollution and stimulate the economy through clean energy and green technology investments. Read the press release or view the report.
Green Business and Residential Awards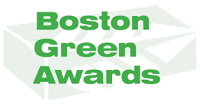 Do you know an individual or business at the forefront of sustainability and making a difference in Boston to help green our city?  You can nominate them for the Mayor's 3rd Annual Green Business, Residential and Bicycle Awards. Nominations are due by February 13th.
 Got a Good Idea for Boston? Pitch the City!
The City of Boston, in partnership with Down:2:Earth (D2E), Boston's sustainable living expo, is sponsoring Pitch the City, an open contest that seeks the public's ideas on making Boston a greener city. This contest gives residents a chance to help make Boston greener by sharing their creative ideas about how the City can become more environmentally conscious in how we live, work, commute, eat or heat. Initial proposals are due on February 2, 2009.  Four finalists will pitch their ideas to a jury including Mayor Menino at Down:2:Earth on April 5, 2009 at the Hynes Convention Center. 
Proposals should contain innovative, yet practical, ideas to help save energy,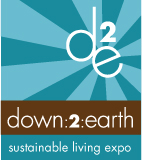 money and/or resources; and make Boston a greener, healthier place to live. Priority will be given to proposals that are most likely to succeed and are easiest to implement. Ideas about how the City can encourage broad adoption of sustainable behaviors among citizens, public awareness campaigns, and outreach ideas are welcome.
Residents can submit their ideas online by February 2 at Down:2:Earth.  
For more information, read the press release.
Mayor Menino, City of Boston Partner with EnerNOC to Save on Energy Bill
The City of Boston will partner with Boston-based company EnerNOC to help improve energy management for city buildings. The City's biggest energy users, City Hall, the public library at Copley, and the police headquarters in Roxbury, will be part of the pilot program and initial cost savings are estimated at $60,000 per year. Working with EnerNOC, the city will be able to analyze and streamline municipal energy use and potentially reduce energy costs even more. According to the agreement, the City will curtail 1,300 KW of energy demand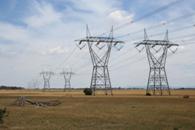 when called and the payments will reach about $60,000 per year with the first three buildings enrolled. The ultimate goal is to include enough municipal buildings to reach 15,000 KW and upwards of $600,000 in payments each year. EnerNOC's patented demand response solutions help participants in its network to identify and implement demand reduction strategies and maximize associated energy savings in near real-time. By aggregating a large portfolio of commercial, institutional, and industrial facilities, EnerNOC is able to maximize the performance of its network.
Mayor Menino Files his State legislative Priorities
Some of the highlights of bills filed by Mayor Menino for the 2009-2010 legislative session include; establishing a green building income tax and excise tax credit; allowing tax deduction for businesses that provide home energy efficiency audits as a benefit of employment; expanding the range of solar hot water applications under current building codes; promoting commercial tenant energy efficiencies; promoting biothermal energy; and creating a groundwater protection tax credit for homeowners. 
Don't Forget to Recycle your Old Phone Book
New phone books are arriving on door steps across Boston. Be sure to recycle your old phone book with your regular paper curbside recycling collection in Boston.  
Community Climate Action and Air Quality Grants Program
The City of Boston is still accepting proposals for the second round of this year's Community Climate Action and Air Quality Grants program.  Boston residents, businesses, and non-profit organizations may submit proposals on a rolling basis for grants of up to $24,999 for projects that encourage and support reducing greenhouse gas emissions and saving energy. The purpose of the funding is to reduce air pollution that contributes to global climate change.
For more information, contact the Air Pollution Control Commission at 617.635.3850 or visit the Community Climate Action and Air Quality Grants Web page.