About Us 
The mission of the Environmental and Energy Services Cabinet is to preserve and enhance the resources of our built and natural environment, and to promote safe, reliable, affordable, and efficient energy systems for Boston. The cabinet oversees the Inspectional Services Department,  the Environment Department, chairs the Mayor's Energy Management Board, and coordinates programs and policies on recycling, green buildings, renewable energy, park planning, and groundwater. 
Important Links
Upcoming Events 
April 15, 6 PM to 8 PM, Food + Fuel event sponsored by City of Boston and Allston Brighton CDC, 20 Linden St, 2nd Flr, Allston  
April 16, Boston Green Business, Residential, and Bicycle Award Ceremony, Children's Museum, 300 Congress Street
April 25, 9AM - 12PM, 10th Annual Earth Day Charles River Cleanup, Herter Park, Soldiers Fields Road
April 25, Boston Shines, the City of Boston's annual spring neighborhood clean-up
April 26, 11AM - 3PM, Earth Day!, Franklin Park Zoo
Recognition
2008 Water Environment Federation Leadership Award
2008 Named 6th Greenest City in the US by SustainLane.com
2008 Named the 3rd Greenest City in US by Popular Science
2008 Outstanding Achievement Award, Sierra Club
2008 Municipal Leadership Award by the Environmental League of Massachusetts
2008 Outstanding Commitment to Sustainable Development Award by ICLEI
2008 Environmental Merit Award by the US EPA for Outstanding Efforts in Preserving New England's Environment
2007 Solar America City by the Department of Energy 
2007 Commonwealth of Massachusetts Leading by Example Innovation Award
2007 Largest Municipal Consumer of Renewable Energy in New England award by AltWheels
Mayor Menino, Former Vice President Al Gore Announce Climate Action Leadership Committee
Last week, Mayor Thomas M. Menino was joined by Former Vice President Al Gore to name the Boston Climate Action Leadership Committee, a 21 member group representing a broad spectrum of the community charged with charting Bostonís collective response to climate change.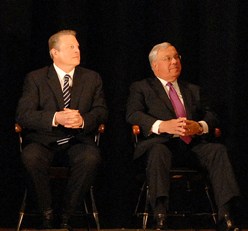 The Mayor has charged the Leadership Committee with making concrete policy recommendations, similar to his Green Building Task Force that in 2007 resulted in Boston becoming the first major city in the nation to require private development green building standards. Policy recommendations will build on significant steps that the City has already taken, including purchasing 12 percent renewable energy for municipal operations, requiring all new city-owned building projects to meet the U.S. Green Building Councilís LEED Silver standard, and embarking on a program to plant 100,000 trees by the year 2020.
The Barr Foundation and the Boston Foundation have committed $500,000 to support the research and planning needs of the Leadership Committee.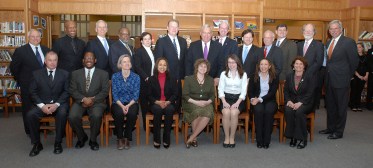 Full press release of the Climate Action Leadership Committee announcement
Boston Receives $6.5 Million in Funding from Federal Economic Recovery Plan
The Mayor also announced that $6.5 million under the American Recovery and Reinvestment Act will be awarded to implement Renew Boston, an innovative public-private partnership that will boost energy efficiency and alternative energy services for Boston residents and businesses. Renew Boston will create a $1.3 million Residential Energy Efficiency Program and a $1.3 million Revolving Loan Fund. Renew Boston will also support municipal facility energy savings targeting the shovel-ready energy efficiency projects identified under the City's Integrated Energy Management Plan.  Renew Boston will reduce energy consumption, associted costs and greenhouse gas emissions, all while stimulating our local economy and creating jobs.
Earth Hour in Boston a Success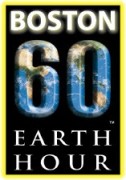 Earth Hour 2009 took place on March 28th from 8:30 to 9:30 pm and asked all participants to extinguish all non-essential lighting during this one hour.  Earth Hour is a community engagement initiative organized by the World Wildlife Fund to raise awareness about climate change and had over 1000 participating cities.
Despite the poor visibility on a foggy early spring night, some of Boston's most famous landmarks, such as the Citgo Sign, the Zakim Bridge, the Custom's House Tower, the State House Dome, the Hancock Tower and the Prudential Center shut down their lights.  Over 70 businesses, government agencies, universities, colleges, hotels, and museums as well as hundreds of residents and small businesses
To learn more about who particpated and visit our website, Earth Hour in the City of Boston.
Lights Out Boston back for the Spring
March 28th also marked the seasonal launch of the Lights Out Boston program, a campaign that began as a pilot initiative last fall, for the spring bird migration period. Lights Out Boston is a voluntary program wherein participating commercial property owners and managers turn off or dim all architectural and internal lighting between 11 p.m. and 5 a.m. during the bird migratory season. On March 10th, Mayor Menino  announced the continuation of last fallís Lights Out Boston program for the spring bird migratory season with our partners from Mass Audubon and commercial property owners. Starting March 28, over 43 commercial skyscrapers in Downtown Boston will dim their lighting in accordance with the initiative during the spring bird migratory season, which ends May 31, 2009. Lights Out Boston aims to save energy, protect migratory birds and set an example that encourages everyone to use energy more efficiently. All Lights Out Boston participants were also leaders in Bostonís commitment to Earth Hour.  
 5 local Non-Profits Receive Grants from the Mayor for Community Climate Action Initiatives
Mayor Thomas M. Menino announced that the City of Boston and the Boston Air Pollution Control Commission (APCC) awarded 2009 Community Climate Action and Air Quality Grants to five neighborhood organizations.  The grants are an effort to fund community climate action initiatives that encourage and support Boston residents, businesses, and institutions reducing greenhouse gas emissions and saving energy. The City of Boston is still accepting proposals for the grant program. For more information, contact the Air Pollution Control Commission at 617.635.3850 or visit the Community Climate Action and Air Quality Grants Web page.
The five grantees and their projects are (1) Alternatives for Community and Environment: Reducing Greenhouse Gases through Education and Outreach in Roxbury and Dorchester; (2) Association of Community Organizations for Reform Now): Carbon Reduction Outreach Program; (3) Kit Clark Senior Center: Hybrid/Electric Van Project; (4) Mass. Energy Consumers Alliance: Renewable Energy for the City of Boston; and (5) Sustainable Business Network: Sustainable Business Leader Program.
Boston Bike Share Program
The City of Boston has partnered with the Metropolitan Area Planning Council (MAPC) to develop a detailed Request for Proposals (RFP) for a model bike share program for the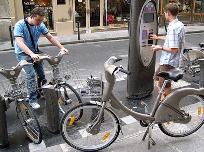 Boston region.  Bike share is part of Mayor Meninoís vision to create a more vibrant, healthy, and green-friendly Boston. The RFP solicits proposals for a green mass transportation system for the metro-Boston area, understanding that the impact of this new transit system increases exponentially by incorporating surrounding municipalities. The RFP calls for the creation of a dense network of over 150 stations, making over 1,500 bicycles readily available through the swipe of a card to residents, commuters, and visitors in Boston. Environmental, health, and economic benefits to Boston include the elimination of up to 315,000 car trips annually, an estimated reduction of 750 tons of greenhouse gases, a 300% increase in bike trips, and the creation of over 50 new green jobs. 
The RFP was made available on March 3rd and submissions are due by May 15th, 2009.
Mayor Menino Announces Winners of Down:2:Earth Pitch the City Contest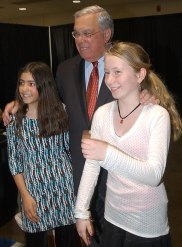 Mayor Menino annouced the two winning contestants, Alexandra Reilinger & Mikayla Colson-Leaning and Jess Lerner, for the Pitch the City contest at the Down:2:Earth (D2E), Bostonís sustainable living expo.  The Four Finalists gave a 15-minute live pitch at D2E at the Hynes Convention Center this past weekend to a jury of city officials including Evelyn Friedman, Chief of Housing; John Palmieri, Director of the BRA; and Jim Hunt, Chief of Environmental and Energy.  
The Winning Pitches:
Alexandra Reilinger and Mikayla Colson-Leaning of Jamaica Plain: Reduce, Reuse & Recycle Mural Project.
Jess Lerner of Brookline: Get a Little Greener! Boston's public awareness and action campaign.
Mayor Menino, United Way Announce $2 Million in Awards to Area Organizations in Conjunction with the Food + Fuel Campaign
Mayor Thomas M. Menino joined Michael Durkin, President of United Way of Massachusetts Bay and Merrimack Valley to announce details of a $2 million investment to provide individuals and families with emergency assistance for

food, heat, and other basic needs. United Way has been one of the leading partners in the Mayorís Food and Fuel Campaign that began last summer. Local awardees include Action for Boston Community Development (ABCD), Asian Task Force Against Domestic Violence, Casa Myrna Vazquez, Catholic Charities, City Mission Society, Ecumenical Social Action Committee, Greater Boston Food Bank, Greater Boston Legal Services, Metropolitan Boston Housing Partnership, Red Cross and the Salvation Army. To learn more about the Mayorís Food and Fuel Campaign and the work of its partner agencies, visit: www.cityofboston.gov/mayor/food_fuel.asp.  
City of Boston's Spring Leaf and Yard Waste Collection begins April 27th thru May 30th 2009
For further information check the City of Boston Website at: http://www.cityofboston.gov/publicworks/RecyclingandSanitation/yardwaste.asp