MAYOR'S FOOD & FUEL SUMMIT        THIS SATURDAY w/Free Flu Shots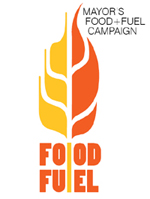 What will you do to lower your heating and food bills this winter?  Start by joining Mayor Thomas Menino, at the 2nd Food + Fuel Summit on September 12th at the Reggie Lewis Track and Athletic Center, 1350 Tremont Street, Roxbury Crossing from 9 AM until 1 PM.  You will receive practical information on how to prepare for winter heating and eating costs, and get your seasonal flu shot.  The Summit is free.  The first 200 participants will receive a tote bag with compact fluorescent light bulbs and weatherization items.  Visit more than 20 resources tables with information on low cost heating, lowering your utility and water bills, energy audits, fuel assistance, healthy, nutritious and affordable food.  Participate in a workshop on do-it-yourself weatherization, energy saving, healthy food preparation, and practical information on how to prepare a household budget.  Receive private, one-on-one utility and credit counseling.  Pick up some locally grown food at discounted costs at 2 Farmers' Markets.  Get your free, seasonal flu shot from trained Boston Public Health Commission staff.  Don't miss this opportunity to get ready for winter costs.  Be sure to bring your friends and neighbors along. 
For more information visit Food and Fuel Campaign or call 617-635-4500.
 Boston's Recycle More Program in Full Swing 
The City's Recycling Department continues to deliver new, 64-gallon blue recycling containers to area neighborhoods as part of Boston's new single-stream recycling program.  Mayor Menino recently delivered new carts to residents in the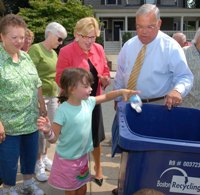 Dorchester neighborhood. South Dorchester, Downtown, Hyde Park, Jamaica Plain, Mattapan, Roxbury and West Roxbury have all received carts. Allston/Brighton, East Boston and South Boston are the next neighborhoods to receive carts.  All residents will be contacted shortly before their delivery date. We appreciate your patience during this process. Meanwhile, as of July 1, 2009 single-stream recycling went citywide.  Residents can put all recyclables in whichever container you currently use without having to sort them. If you'd like a 'Recycling' sticker and use a large container, such as a trash barrel, please contact the City's Recycling Department at 617-635-4959.
For more information, please visit: City of Boston Recycling Website. 
Wind Powers Waste Treatment at Deer Island
Two new, 190-foot, 600kW wind turbines have been installed on Deer Island in Boston Harbor.  Governor Deval Patrick, EEA Secretary Ian Bowles, and MWRA Executive Director Fred Laskey celebrated the installation at a ribbon-cutting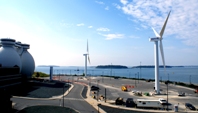 ceremony in August.  These turbines will generate over 2 million kW hours per year and all of the power generated will be utilized on-site. This will save MWRA ratepayers $250,000 a year in energy costs. The Deer Island Treatment Plant currently uses renewable energy to self-generate 23% of its power needs on-site through a combination of a steam turbine generator fueled by digester gas, hydroelectric power generated as the treated water falls into the outfall tunnel, and solar energy. With the addition of these two turbines, Deer Island's self-generation will increase to 26%.  Mayor Menino and Boston's three representatives on the Board of Directors of the MWRA applaud the MWRA's efforts to showcase renewable energy projects in Boston.
American Recovery and Reinvestment Act 6 Month Update
The City of Boston will receive $6.5 Million for the Renew Boston program from the American Recovery and Reinvestment Act in the next month.  With these funds, Renew Boston will be able to launch its largest effort ever to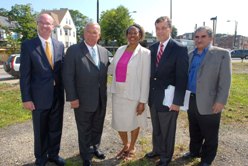 help businesses and homeowners make their property more energy efficient.  These funds will leverage an additional $23 million from state and utility programs. 
Mayor Menino recently unveiled a 6 month AARA update at a Brownfields even in Dorchester's Codman Square with EPA Region 1 Adminstrator Ira Leighton, city officials and CDC representatives.
For more information, see the Press Release on the City of Boston's 6 month update for the Recovery Act and go to the City's Recovery Act webpage .
Climate Action Leadership Committee and the Community Advisory Committee Updates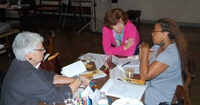 The Climate Action Leadership Committee met for the second time at the end of July at the Boston Architectural College and is moving forward on developing recommendations for Mayor Menino's climate action plan.  Their next meeting will be on September 15th at the New England Aquarium at 9am.  For more information, visit the Climate Action Leadership Committee website which includes  meeting minutes and presentations.
On September 1st, the initial meeting of the Climate Action Community Advisory Committee met at the Old South Church in Copley Square, with 35 members in attendance from all neighborhoods of Boston. For more information please the Community Advisory Committee website.
Mayor with Environment America
at Boston GreenFest 2009
Mayor Menino welcomed GreenFest 2009 back to City Hall Plaza at a clean energy rally with Environment America.  Over a hundred Environment America fellows from around the nation joined Mayor Menino in calling for strong leadership at the national level for promoting a more robust clean energy marketplace. 
GreenFest was a big success at City Hall Plaza. The three-day festival was a showcase of the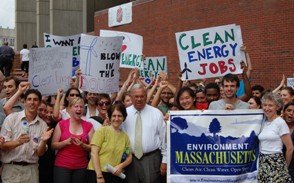 best practices to "green" the City of Boston as well as protect the environment. With entertainment and exhibits, GreenFest was an exciting opportunity for the public to learn about energy conservation and sustainability, as well as health and wellness strategies.  GreenFest also highlighted the work by the City of Boston in moving toward a more sustainable and healthy living for all residents.  
From the Desk of Jim Hunt
I hope you find the information in our newsletters useful and informative.  My staff and I strive to keep you up to date on what the City's Office of Environmental and Energy Services is doing to Green Boston. We want to hear from you.  If you have an idea or if there is something you would like to comment on, please feel free to to contact me at environmental.energy@cityofboston.gov
                                        Thank You,
                                         Jim Hunt