About Us 
The mission of the Environmental and Energy Services Cabinet is to preserve and enhance the resources of our built and natural environment, and to promote safe, reliable, affordable, and efficient energy systems for Boston. The cabinet oversees the Inspectional Services Department,  the Environment Department, chairs the Mayor's Energy Management Board, and coordinates programs and policies on recycling, green buildings, renewable energy, park planning, and groundwater. 
Important Links
Upcoming Events 
September 21, 8 AM to 3 PM, Hub On Wheels Bike Ride and Festival, Boston City Hall Plaza
September 24, 6:30 to 8:30 PM, Boston Re- development Authority wind energy facility zoning hearing,
Boston City Hall, Room 900, BRA Conference Room
September 27, 9:00 to 1:00 PM, Mayor's Food and Fuel Summit, Madison Park High School, 55 Malcolm X Blvd, Roxbury 
September 26-27, Boston Greenfest, City Hall Plaza
October 4, 9 AM to 2 PM, Household Hazardous Waste Drop-Off, UMass Boston Lot Parking, 100 Morrisey Blvd, Dorchester
October 23, 1:00 to 3:00 PM, City/State Groundwater Working Group Meeting, 100 Cambridge Street, 2nd floor Conference Room
November 19-21, GreenBuild International Conference,
Boston Convention and Exhibition Center
415 Summer Street, Boston
Recognition
2008 Named the 3rd Greenest City in US by Popular Science
2008 Outstanding Achievement Award, Sierra Club
2008 Municipal Leadership Award by the Environmental League of Massachusetts
2008 Outstanding Commitment to Sustainable Development Award by ICLEI
2008 Environmental Merit Award by the US EPA for Outstanding Efforts in Preserving New England's Environment
2007 Commonwealth of Massachusetts Leading by Example Innovation Award
2007 Largest Municipal Consumer of Renewable Energy in New England award by AltWheels
2006 Named 7th Greenest City in the US by Sustainlane
 

MAYOR'S FOOD + FUEL

CA

MPA

IG

N
With the high costs of energy and food hitting the wallet of every Bostonian, Mayor Thomas M. Menino is bringing together business and community partners to help Boston residents from all income levels deal with these rising costs.
The Mayor's Food and Fuel Campaign will help residents be better prepared for this winter and gain access to various resources available to the public. The City and its partners are hosting a major Food and Fuel Summit on September 27, and will also host a series of community dinners across the city later in the fall.
Learn how to reduce your electric,
heating, water, and food bills now!
Attend the Food and Fuel Summit on September 27 from 9 AM to 1 PM at Madison Park High School, 55 Malcom X Boulevard, Roxbury.

Free Weatherization Kit including a Compact Fluorescent Light bulb and valuable coupons for the first 200 participants!
For additional information, including directions and translation in other languages, please call 617.635.4500 or visit the Food and Fuel Campaign website.
For easy steps to lower your utility bills or weatherize your home this winter, visit the City of Boston's Resource for Residents.
---

On September 3, Mayor Thomas M. Menino stood alongside prominent commercial property owners and the President of Mass Audubon to announce a new initiative called Lights Out Boston.  Under this voluntary program, participating building owners and managers agree to turn off or dim all architectural and internal lighting between and during the fall bird migratory season, which ends October 31, 2008.  Partners of Lights Out Boston own and operate buildings that comprise over 23 million square feet of comm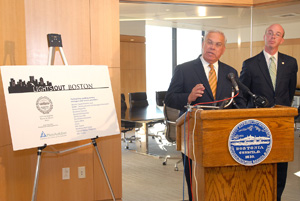 ercial office space in Boston.  These skyscrapers will set an example that encourages everyone to use energy more efficiently.
Lights Out Boston will protect migrating birds, which have difficulty adapting to an urban environment.  When a city skyline—especially buildings over 30 stories high—is brightly lit at night, the lights can confuse the birds.  Scientists are unsure of the exact reason for this problem, but do know that birds can fly as low as 500 feet during inclement weather and skyscrapers are the most visible part of the city to migrating birds.
Visit Lights Out Boston for more information.
Wind Zoning

Public Hearing
The Boston Redevelopment Authority (BRA) has drafted a Wind Energy Facilities zoning article for siting large, small, and building- integrated wind energy facilities in the City of Boston.  A hearing for public comment on the draft article will be hosted by the BRA on September 24 at in room 900 of Boston City Hall.  The purpose of the Wind Energy Facilities article is to establish clear guidelines for the erection and operation of wind energy facilities.  The proposed zoning provides standards for the placement, design, monitoring, modification, and removal of wind energy facilities that address public safety, minimize impacts on scenic, natural, and historic resources of the City of Boston, and provide adequate financial assurance for decommissioning.

Check Out Your Solar Potential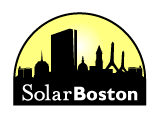 Look at the Solar Boston Map to see your house's potential for generating energy from the sun.  Additionally, you can view renewable energy installations throughout Boston.  The Solar Boston Map is already being recognized nationally for its innovations.
Green Operations Executive Order 
Signing his second major executive order on green initiatives, Mayor Thomas M. Menino set in place policies that increase the City's purchase of environmentally preferred products such as green cleaning supplies, expand its recycling programs, and employ information technology for energy and resource conservation. 
The "Green Operations Order" covers the approximately 400 buildings owned and operated by the City of Boston.
Many City agencies have already begun to implement green initiatives. For example, computers in City Hall are set to automatically shut off at night; Boston Public Schools has converted all of its oil burners to natural gas; several agencies are using energy efficient lighting and systems that turn lights off when rooms are not in use; and a wind turbine is now providing clean renewable energy on top of City Hall.
Click here for more information on the Executive Order on Green Maintenance and Operations
Boston

H

arbor

Designated a No Discharge Area
 Mayor Menino joined US EPA Regional Director Robert Varney and MA Secretary of Energy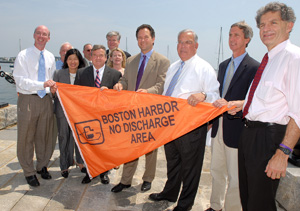 and Environmental Affairs Ian Bowles to announce the designation of Boston Harbor as a No Discharge Area. Effective July 8, all treated and untreated boat sewage must be pumped from boaters' sewage holding tanks into a pumpout facility or pumpout boat. There are 35 pumpout facilities in Boston Harbor; the City will provide a new pumpout boat and is committed to adding new pumpout facilities. Visit Boston Harbor Pumpout Facilities for a listing.

Boston Taxi Fleet Going Green
The Boston Police Hackney Division announced recently that, as part of many new improvements in the taxi industry, all taxis must be hybrid by 2015.
The hybrid vehicles will be pha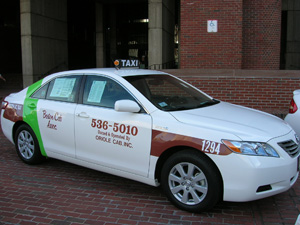 sed in as current vehicles reach their mandatory retirement age. Hybrid taxis have been operating on the streets of Boston since 2006 under the City's CleanAir Cabs program.  Hybrid taxis will reduce carbon emissions from the taxi fleet by about half and will save taxi drivers $1,000 a month in fuel costs.

Community Climate Action and Air Quality Grants Program
On September 29, 2008, the City of Boston will release a Request for Proposals (RFP) for its Community Climate Action and Air Quality Grants program. In the first round of funding, Boston residents, businesses, and non-profit organizations may submit proposals (due October 24, 2008) for grants of up to $9,999 for projects that encourage and support reducing greenhouse gas emissions and saving energy. The purpose of the funding is to reduce air pollution that contributes to global climate change.
For more information, contact the Air Pollution Control Commission at 617.635.3850
I Took the Mayor's Climate Action Pledge
Mayor's Youth Council Reps Christian Onouha and Sherry Li show off their Climate Action Pledge.  Join these and other Boston residents by doing your part to protect the environment and take the Climate Action Pledge today!
Note: We apologize if you have received this newsletter twice as an early draft was inadvertantly sent to a small subset of our distribution list.