About Us 
The mission of the Environmental and Energy Services Cabinet is to preserve and enhance the resources of our built and natural environment, and to promote safe, reliable, affordable, and efficient energy systems for Boston. The cabinet oversees the Inspectional Services Department,  the Environment Department, and teh Parks Department, chairs the Mayor's Energy Management Board, and coordinates programs and policies on recycling, green buildings, renewable energy, park planning, and groundwater. 
Important Links
Upcoming Events 
May 20th, 4-6PM, Boston Groundwater Trust Board of Trustees Meeting, Lenox Hotel, Back Bay
Recognition
2010 Named 2nd Best City for Cleantech Jobs by Fast Company
2009 Named Best City for Cleantech Companies by Fast Company
2009 Named 8th Greenest 'Smart City' by Natural Resources Defense Council
2009 Named 2nd Best City to Start a CleanTech Company by BusinessWeek 
2009 Environmental Merit Awards by the US EPA for Lights Out Boston and Solar Boston Programs
2008 Water Environment Federation Leadership Award
2008 Named 6th Greenest City in the US by SustainLane.com
2008 Named the 3rd Greenest City in US by Popular Science
2008 Outstanding Achievement Award, Sierra Club
2008 Municipal Leadership Award by the Environmental League of Massachusetts
2008 Outstanding Commitment to Sustainable Development Award by ICLEI
2008 Environmental Merit Award by the US EPA for Outstanding Efforts in Preserving New England's Environment
2007 Solar America City by the Department of Energy 
2007 Commonwealth of Massachusetts Leading by Example Innovation Award
2007 Largest Municipal Consumer of Renewable Energy in New England award by AltWheels
    Sparking Boston's Climate Revolution
Be sure to review the recommendations of the Mayor's Climate Action Leadership Committee and the Community Advisory Committee. Please check out the full and summary reports outlining a wide range of recommendations and strategies for climate action: 
Sparking Boston's Climate Revolution
.
Two recent Boston Globe articles highlighted the city's efforts to mitigate GHG emissions and adapt to future changes in the climate.  Dave Abel covered the
climate announcement
 on a new set of climate action recommendations and Drake Bennett discussed "
Defending Boston from the sea
."
New England Cable News (NECN) dedicated a recent show to the Green City as part of the Boston Foundation's "Bending the Curve" series. Check out
The Green City
 segment.
Mayor Menino's 2010 Green Awards
On April 29, Mayor Menino recognized 14 residents and businesses for their sustainability initiatives and achievements. The Mayor's Green Business Awards recognized extraordinary performances related to sustainable environmental practices. The Mayor's Green Residential Awards highlighted residents and local organizations in Boston that are committed to sustainable living. Winners in this category demonstrate exemplary sustainable practices in their community and in their homes.
Four residential winners
were recognized:

Mishawum Park Tenants Association, River House Condominium Association, Rollins Square Condominium Trust, and Flavia and Tim Reardon.
Ten Business winners
were recognized: Boston Properties, Allston Collision Centers, Boloco, Boston Neighborhood Network, Brigham & Women's Hospital, CB Richard Ellis New England, First Wind, Jacobs Engineering Group, Harvard Business School, Millennium Partners, New Generation Energy, Southwest Boston Community Development Corporation, Thompson Island Outward Bound Education Center, and the Ula Café. To learn more about the program and see past winners, check out the
Green Awards
.
Local Sustainable Businesses Certified
Eight Boston companies were recently certified as "Sustainable Business Leaders," for having completed the
Sustainable Business Leader Program
(SBLP)—a comprehensive certification program of the
Sustainable Business Network
(SBN) which supports local businesses that improve their environmental practices and reduce their carbon footprint. SBLP was created by a partnership between the Sustainable Business Network and the Boston Redevelopment Authority's
Green Tech Initiative
.
The eight graduating companies were partly funded by the City of Boston's Air Pollution Control Commission and received their official "Sustainable Business Leader" certification from Chief Hunt.  We congratulate all the graduates- Beacon Hill Athletic Club, City Feed and Supply, Economy Hardware, Fornax Bakery, Howard/Stein-Hudson Associates, Inc., New Boston Fund, State Room and Tarlow, Breed, Hart & Rodgers, PC. 
Boston & Mass DOT Bring Bike Lanes to Massachusetts Ave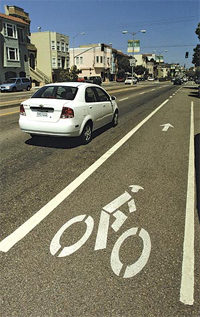 Mayor Menino and state officials recently announced plans to install bike lanes on Massachusetts Avenue, a key downtown street  artery from Boston Medical Center to Symphony Hall.
The five-foot-wide lanes will be added as part of an $18 million reconstruction of the Avenue. The project will be 80 percent federally-funded and 20 percent state-funded. Plans call for it to be completed by Fall 2011. 
Boston Green Jobs Training
Green Jobs Boston
is a city-wide initiative coordinating a growing list of green job creation, training and placement efforts. Boston's conversion to a sustainable city stimulates job growth and creates more opportunity across all economic sectors. Mayor Menino is committed to ensuring that all Boston residents have access to the benefits of a new green economy.
The City of Boston has partnered with Action for Boston Community Development (ABCD) to run a Weatherization Boot Camp at the old Mattapan Library site.
So far, the Boot Camp has trained over 50 trainees from the greater Boston area.  
Teaching proper weatherization techniques, the boot camp is an informative training program that prepares local contractors and others on how to deliver proper energy efficiency and weatherization services.
The instructors, who are all industry experts, provide an all-inclusive overview of the weatherization business. Trainees learn how to properly use equipment, how to remove all types of siding, drill holes and blow insulation and perform air sealing. In addition, they are also taught window replacement, window tightening and door weather stripping. The City of Boston and ABCD will be hosting more Weatherization Boot Camps throughout the summer and possibly into the fall.
Boston Marathon Spaghetti Dinner Has 97.5% Diversion Rate
The City of Boston partnered with Significant Events and Save That Stuff to host a zero-waste Marathon Spaghetti Dinner. The event was an outstanding success with a 97.5% diversion rate. This is a significant improvement from last year's rate of 77%. A large group of volunteers made sure guests knew about the zero-waste focus and multiple media formats were used to reinforce the message. All waste receptacles were removed from the area and zero-waste stations were set up. The event produced 2,900 lbs of compostable material and had over 1,900 lbs of recyclables diverted. At the end, only 8 bags of trash were left which consisted mostly of disposable tablecloths.  Save That Stuff truly demonstrated that recycling can be a success even at large-scale events!
Boston's Federal Reserve Achieves Gold
Boston's 
Federal Reserve Building
was recently certified by the U.S. Green Building Council as LEED-Gold for exisiting buildings. Environmental and sustainability initiatives at Federal Reserve Plaza date back to the building's original construction, which included the installation of one of the city's first major roof gardens. Over the past 10 years, building management has installed new white roofs to reduce the heat island effect, completed a mechanical system retro-commissioning, and reduced water consumption by more than 30% through the replacement of all original water fixtures and the installation of low flow aerators. The recently reconstructed plaza incorporates a drip irrigation system and features native and adaptive vegetation in an effort to reduce water and fertilizer use and restore the local habitat. One unusual component of the building's waste stream is shredded currency. Building management has instituted composting of the currency shred, an operation that has diverted more than 43 tons of waste from local landfills over the past 12 months. Overall, energy-related CO2 emissions have been reduced by more than 4%, or 704 tons – the equivalent of taking 147 passenger cars off the road.
Boston Harbor Island Alliance Sponsors Free Ferry Day June 14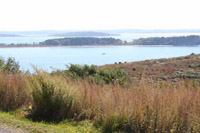 On Monday June 14th, the Boston Harbor Island Alliance, through the generosity of The Lawrence & Lillian Solomon Fund and Boston's Best Cruises, will offer free ferry tickets for visitors to the Boston Harbor Islands National Park area. Learn more about 
Free Ferry Day.
                  From the Desk of Jim Hunt
I hope you find the information in our newsletters informative.  My staff and I strive to keep you up to date on what the City's Office of Environmental and Energy Services is doing to Green Boston.
We want to hear from you. If you have an idea or if there is something you would like to comment on, please feel free to to contact me at