About Us 
The mission of the Environmental and Energy Services Cabinet is to preserve and enhance the resources of our built and natural environment, to promote safe, reliable, affordable and efficient energy systems for Boston. The cabinet oversees the Inspectional Services Department and the Environment Department, chairs the Mayor's Energy Management Board, coordinates programs and policies on recycling, green buildings, renewable energy, park planning, and groundwater.
Important Links
Environmental and Energy Services
Inspectional Services Department
Boston Water & Sewer Commission
Massachusetts Water Resources Authority
Upcoming Events 
July 24 1:00 to 3:00 PM
City/State Groundwater Working Group Meeting
100 Cambridge Street, 2nd floor Conference Room
July 31 4:00 to 6:00 PM
Boston Groundwater Trust, Trustees Meeting
Lenox Hotel, Boston
September 16 3:00 to 4:30 PM
Boston Harbor Islands Partnership Meeting
60 State Street
Boston
September 26-27 AltWheels Festival
City Hall Plaza
October 23 1:00 to 3:00 PM
City/State Groundwater Working Group Meeting
100 Cambridge Street, 2nd floor Conference Room
November 19-21 GreenBuild International Conference
Boston Convention and Exhibition Center
415 Summer Street, Boston
Recognition
2008 Named the 3rd Greenest City in US by Popular Science Magazine
2008 Muncipal Leadership Award by the Environmental League of Massachusetts
2008 Outstanding commitment of Sustainable Development Award by ICLEI
2008 Environmental Merit Award by the US EPA for Outstanding Efforts in Preserving New England's Environment
2007 Commonwealth of Massachusetts Leading by Example Innovation Award
2007 Largest Municipal Consumer of Renewable Energy in New Englad award by AltWheels
2006 named 7th Greenest City in the US by Sustainlane
Welcome to the first Environmental and Energy Services E-Newsletter
Mayor Thomas M. Menino has been leading the way in greening the City of Boston and continues to make Boston a more livable and environmentally sustainable city.  Boston was recently named the 3rd Greenest City in the United States by Popular Science Magazine.  We are proud of the accomplishments we have made and thank the many community and government partners we work with to move our sustainability agenda forward. In order to keep interested people informed of our efforts, we have developed this newsletter.  Thank you for all that you do to make Boston a more sustainable city.
Jim Hunt
Chief of Environmental and Energy Services
---
 Thank you for taking Mayor Menino's Climate Action Pledge 
 Many of you are receiving this newsletter because you committed to take greenhouse gas-reducing steps by signing the Climate Action Pledge.  We are grateful for the partnership of Boston Latin School Youth Climate Action Network (Youth CAN) for the terrific work they do to educate their peers on climate action.  They are active participants in promoting the Mayor's green agenda, and chances are you were approached by a Youth CAN volunteer to sign the Climate Action Pledge.  If you haven't signed, Click Here to take the Climate Action Pledge.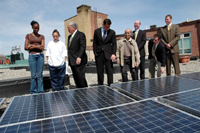 Solar Boston Program
Mayor Menino was joined by US Secretary of Energy Samuel W. Bodman and MA DOER Commissioner Phil Giudice to announce a two-year $550,000 initiative to increase the use of solar power in Boston with a focus on mapping, marketing, and procuring solar energy systems citywide. $500,000 in city capital funds will leverage $1 million for new solar projects on city buildings at Brighton High School, the Strand Theater, the Tobin Community Center and the West Roxbury Branch Library.  The Massachusetts Technology Collaborative, National Grid, NSTAR and an anonymous foundation are providing funding assistance. Read more on Solar Boston.
Lower Your Utility Bills and Green Your Home
Are you planning a home renovation project and want to green it but are not sure how to start?  We have done some of the basic research for you and put together some practical information in the Lower Your Utility Bills and Green Your Home brochure and more detailed Information Sheets.  Even if you are not renovating, you can find some practical, everyday tips to lower your utility usage. Visit Resources for Residents on our web page for more information.
Recycle More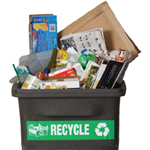 A year long recycling pilot program in Roslindale/Jamaica Plain testing single stream recycling has brought a 53% increase in recycling rates in the pilot area. Single stream allows residents to combine all recyclables in either a large wheeled cart or in denser areas where space is tight, in large clear plastic bags. Mayor Menino is committed to bring single stream recycling to all neighborhoods.  A permanent program began the South End last winter with a 128% increase in recycling, and a program is expanding into the North End, Beacon Hill, Chinatown, and West Roxbury over the next several weeks. Read more about Recycle More.
Growing Boston Greener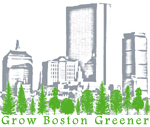 On Arbor Day, Mayor Menino announced Grow Boston Greener (GBG), a new public private partnership with Boston's Urban Forest Coalition to plant 100,000 trees in Boston by 2020.  Not only are they beautiful, but trees also help keep the air clean by removing pollutants, and reduce home energy costs by acting as a windbreak in the winter and shade your home in the summer. You can be a part of GBG by planting a tree at your home. GBG will provide a tree appropriate for your location at no cost; your only obligations are to plant, maintain and enjoy it. To learn more, click on Grow Boston Greener.
2nd Annual Green Business and Residential Awards
Mayor Menino recently recognized 12 local businesses and 7 residents for their outstanding commitment to sustainable practices at the 2nd annual Green Business and Residential Awards held at last year's award winning Jury's Hotel. Also recognized were 31 businesses for their bicycle-friendly practices.  Click Mayor's Green Business and Residential Awards for a list and description of the award winners.
Summer in the City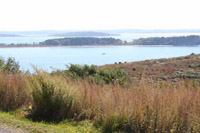 Take an island vacation at home. Enjoy cool ocean breezes, walking trails, swimming beaches, or just sit in the shade and enjoy a good book. You can even extend your stay by camping at one of two islands.  You're just a ferry boat ride away.  Visit www.bostonharborislands.com for information on the islands and the ferry schedule. The city has also launched a new tourism campaign called "Visit the Pin" that is primarily aimed at families feeling the pinch from higher gas prices and general cost of living increases. People can obtain information in advance of their visit by logging on to www.visitthepin.com to check out the city's newly revised calendar that already lists more than 1,500 events.
Top Green Buildings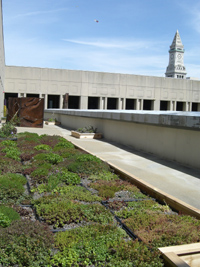 At their recent annual meeting held in Boston, the American Institute of Architects (AIA) partnered with Mayor Menino and the Boston Society of Architects to select a cross-section of buildings that characterize the diversity of green buildings in Boston.  These buildings represent excellence in sustainable design principles and reduced energy consumption. For a list of the top greenest buildings, visit Top Greenest Buildings