About Us 
The mission of the Environmental and Energy Services Cabinet is to preserve and enhance the resources of our built and natural environment, and to promote safe, reliable, affordable, and efficient energy systems for Boston. The cabinet oversees the Inspectional Services Department,  the Environment Department, and the Parks Department, chairs the Mayor's Energy Management Board, and coordinates programs and policies on recycling, green buildings, renewable energy, park planning, and groundwater. 
Important Links
Upcoming Events 
February 26th, Mayor's Green Award Nominations Due
February 27th, 10AM-2PM, Youth Climate Action Workshop, Old South Church, 645 Boylston Street, Boston
March 2nd, 4:30-8:30PM, Climate Workshop, Tremont Temple Baptist Church, 88 Tremont Street, Boston
March 8th, 4:30-8:30PM, Climate Workshop, West Roxbury Elks Club, 1 Morrell Street, West Roxbury
March 10th, 4:30-8:30PM, Climate Workshop, George Sherman Union, Boston University, 775 Commonwealth Avenue, Boston
March 15th, 4:30-8:30PM, Climate Workshop, Hibernian Hall, 182-186 Dudley Street, Roxbury
March 18th, 4-6PM, Boston Groundwater Trustees Meeting, Lenox Hotel, 61 Exeter Street, Boston
Recognition
2009 Named Best City for Cleantech Companies by Fast Company
2009 Named 8th Greenest 'Smart City' by Natural Resources Defense Council
2009 Named 2nd Best City to Start a CleanTech Company by BusinessWeek 
2009 Environmental Merit Awards by the US EPA for Lights Out Boston and Solar Boston Programs
2008 Water Environment Federation Leadership Award
2008 Named 6th Greenest City in the US by SustainLane.com
2008 Named the 3rd Greenest City in US by Popular Science
2008 Outstanding Achievement Award, Sierra Club
2008 Municipal Leadership Award by the Environmental League of Massachusetts
2008 Outstanding Commitment to Sustainable Development Award by ICLEI
2008 Environmental Merit Award by the US EPA for Outstanding Efforts in Preserving New England's Environment
2007 Solar America City by the Department of Energy 
2007 Commonwealth of Massachusetts Leading by Example Innovation Award
2007 Largest Municipal Consumer of Renewable Energy in New England award by AltWheels
Know a local Green Hero? 
Nominations are now open for the Mayor's 2010 Green Awards.  Mayor Menino continues to support and encourage local businesses and residents to pursue sustainable practices in our community.  The Green Awards serve to recognize businesses, residents, and bike-friendly organizations doing great work in the community to improve our environment.  Please nominate worthy candidates for an award in the three categories: business, residential, and bike-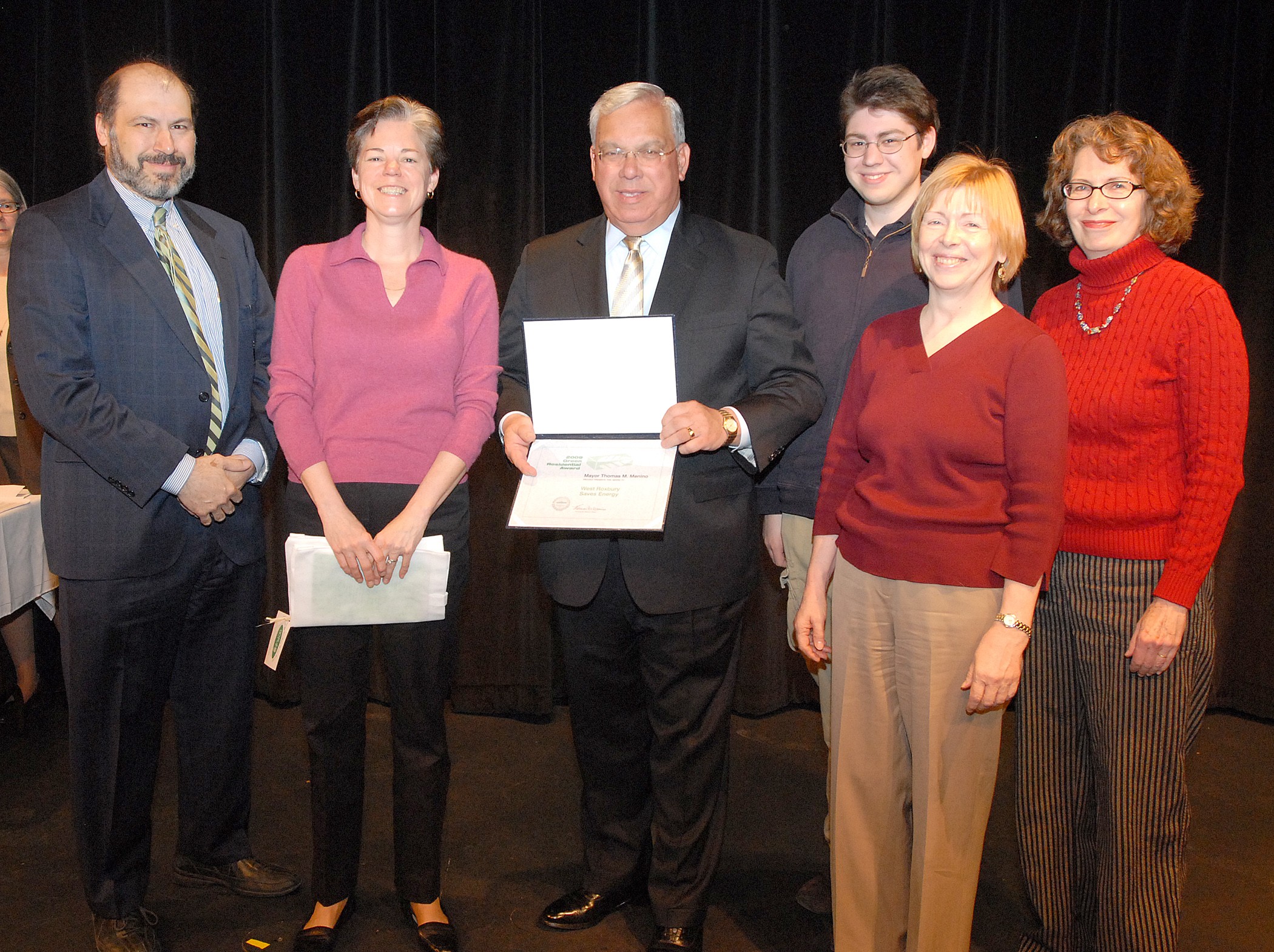 friendly. See Green Awards for more information and the application form.  Nominations are due by February 26, 2010.  The Mayor will host a reception in April to recognize the winners. 
Community Workshops on Climate Action
Mayor Menino has asked his Climate Action Leadership Committee and the Community Advisory Committee on Climate Action to make recommendations for cityís new climate action plan.  They are working to find ways to reduce greenhouse gas emissions, save energy, adapt to the changes we canít avoid, and expand the green economy. Itís going to take creative thinking, tough decisions, and real commitment from all of Bostonís residents, businesses, and organizations as well as city government, to make it happen. 
There will be a number of community workshops for residents who want to participate in this important planning process. Attendees will:
Learn about how climate change is already affecting Boston and what we can do about it;

Give feedback on new climate action proposals, which include actions related to housing, transportation, and beyond, using keypad system;

Meet and talk with other Boston residents who care about climate action;

Learn about Renew Boston, the Cityís program to link residents with practical resources to start saving energy and reducing greenhouse gases right away
Find more information on the upcoming community workshops, view the entire schedule or sign up to participate here.
Grow Boston Greener Grant Opportunity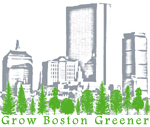 Mayor Menino and the cityís Parks Department are continuing to green our city. The Mayor has set a goal to plant 100,000 additional trees in Boston by 2020 and to increase the urban tree canopy to 35% by 2030 through the
Grow Boston Greener
initiative. To date, the city has already planted over 5,000 trees. Grow Boston Greener (GBG) is a collaborative effort between the city and its partner organization,
Boston Urban Forest Coalition
. GBG recently unveiled a beautification grant program for non-profits interested in tree plantings. The program will offer grants of $250-2,500 towards planting and maintaining new trees by non-profit organizations.  Applications are due by Friday, February 12, 2010. For more information, please visit
Boston Tree Grants
.
Recycle More's Local Stars
Want to see how the new Recycle More program works?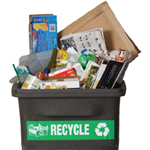 Need to know how to get a bin and what to do with it? Check out our new PSAís via the cityís
Recycling Department
.
Learn more about the new Recycle More efforts and do your part to decrease the cityís waste stream.
LED Pilot Moves to Jamaica Plain
The City's Environment and Public Works Departments have teamed up with Everlite LED Lighting Company to test LED streetlights at the municipal parking lot off Centre Street. Everlite has loaned twenty LED lights for the project.  The City will be evaluating the product and measuring energy useage.  LED's use less than half the energy of traditional lights and also last twice as long.  The City also has an 
LED pilot project
 on the Boston Common and encourages residents to provide comments. Learn more about the city's 
LED projects
 amd participate in our feedback survey.
 BWSC Awards 240kWh Solar System Contract
The Boston Water and Sewer Commission (BWSC) has awarded a $1.075 million contract to Fishbach & Moore for the design, construction and installation of a 240 kWh solar photovotaic array system at BWSC's Harrison Avenue headquarters.  With support from DOE's Solar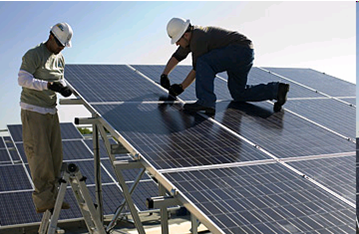 America program, the Mayor's Office of Environmental and Energy Services facilitated a technical study by the National Renewable Energy Lab 
(NREL) of the roof's solar feasibility.  The system is expected to produce approximately 300,000 kWh anuually and prevent over 340,000 lbs. of carbon dioxide gas from being released each year.  It will be the largest public-owned system in Boston to date. The system is expected to be fully operational by late May.
Become a Fan of Green Boston
Follow the Office of Environmental and Energy Services online via Facebook. Become a fan and keep up to date on current projects, events, and news items. Connect with other environmental advocates at 
Green Boston
.
From the Desk of Jim Hunt
I hope you find the information in our newsetters informative.  My staff and I strive to keep you up to date on what the Cityís Office of Environmental and Energy Services is doing to Green Boston. We want to hear from you.  If you have an idea or if there is something you would like to comment on, please feel free to to contact me at environmental.energy@cityofboston.gov
                                        Thank You,
                                          Jim Hunt