Green Growth District and Greenbuild Conference
On November 19, Mayor Menino kicked off the Greenbuild International Conference at the Boston Convention and Exhibition Center, by calling for the designation of Government Center as a ďGreen Growth District.Ē  In the conference welcoming address, Mayor Menino outlined his vision to encourage a new paradigm for growth and economic development that will both add vitality to the area and incorporate the latest thinking in sustainability.   This will entail a comprehensive approach for both adaptive reuse of existing development and sustainable new development for Government Center, including onsite-power generation, the highest green standards for material use, energy consumption and life cycle costs for operating systems, groundwater recharge and maximizing open space. 
The US Green Building Councilís Greenbuild International Conference 30,000 architects, designers, planners, manufactures, builders and government officials to Boston for the biggest yearly gathering of Green Building professionals in North America. Environmental and Energy Services Chief Jim Hunt and BRA Chief Planner Kiros Shen outlined how the city created the foundation of its sustainability agenda and future plans to build on it to over a 100 conference members.
Green Jobs
As a component of his green jobs training portfolio, Mayor Menino recently announced the award of a $125,000 grant to the Asian American Civic Association (AACA) in partnership with the Asian Community Development Corporation for their Facilities Maintenance Energy Efficiency training program.  AACA recruited an impressive list of partners including CJ/CMJ Management Company, Cornu Management Company, Maloney Properties, Winn Residential, the Hilton Back Bay Hotel, and the Lenox Hotel who assisted in creating the curriculum, agreed to interview all program graduates, and will hire as vacancies allow.  The Mayor feels strongly that when the economy improves, green jobs will be in demand and wants to be sure that Bostonians have the training and skills to be able to step into these jobs.  Several other green jobs training programs are in development for 2009.   Read more about our Green Jobs Announcement.
Boston Green Awards: Get Rewarded for Being Green!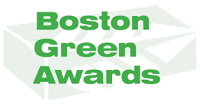 Once again, it is time to nominate local businesses and community members for Mayor Meninoís Green Awards!  Mayor Menino hopes that these awards will encourage Boston businesses and residents to engage in environmentally sustainable practices, learn more about such practices and initiate their own sustainability efforts and programs.
Please visit the 2009 Boston Green Awards website to learn more about the nomination process and to nominate local businesses and residents plus a bike friendly business recognition category.   The deadline is February 13, 2009.
Also, look back on past winners from 2007 and 2008 to see organizations and individuals committed to improving Bostonís local communities through sustainable practices and initiatives.
Mayorís Food & Fuel Campaign

With the downturn in the economy, many Boston families will face difficult choices this winter; heat or eat. To assist residents, Mayor Menino began his Food + Fuel Campaign this summer.  This partnership of government, businesses and non-profit organizations was formed to help residents and small businesses address the rising costs of food and fuel.  As part of this effort, the Mayor recently hosted a Food and Fuel Summit at Madison Park High School in Roxbury where 1,000 residents learned about food programs, healthy cooking, fuel assistance, weatherization and how they could help others.  To learn of upcoming neighborhood and assistance programs, visit the Mayorís Food + Fuel Campaign.
You can help by checking on your neighbors this winter, donating canned goods through the Greater Boston Food Bank, or making a donation to the Mayorís Food + Fuel Campaign through Community Support Fund, a collaborative effort with United Way.  100% of your donation will support families in need.
Boston Buying Power Initiative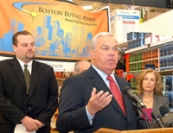 Boston Buying Power, launched in early November by Mayor Menino, is designed to harness the buying power for the small business sector. Boston Buying Power allows small businesses to benefit from competitive electricity and natural gas rates and long-term fixed prices negotiated by an outside broker on behalf of the purchasing group.
Boston Buying Power participants will still pay their supplier for the delivery but will pay less for the energy itself because the partnership will access the energy market directly through experienced wholesale market negotiators.  In addition to the procurement of energy, Boston Buying Power will also allow businesses to connect to programs and services that will help with reducing and managing their consumption of gas and electricity within the Boston business sector.
Interested in going solar?? Visit the City of Bostonís website and interactive solar map!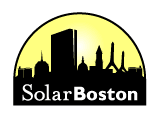 Is your roof a good candidate for a solar panel installation?
Are you interested in seeing other examples of green buildings in the area?
Do you need to calculate potential program costs?
Bostonís Solar Map can help you explore the cityís solar energy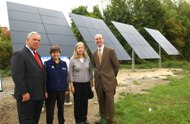 capacities, help you plan your own projects, or get a sense of how local green buildings use solar panels.  It has a number of useful tools and interactive views while providing a wealth of information.  For additional information visit Solar Boston and read about Solar Boston case studies.
Compact Fluorescent Lighting : Donít Throw Them in the Trash!!!!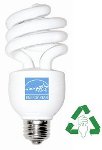 Since May 1, 2008, all Massachusetts homes and businesses are no longer allowed to throw Compact Fluorescent Light bulbs (CFL) in the garbage.  These types of bulbs must now be recycled. Fortunately, it is quite easy for residents and business owners to find more information and help on recycling these types of materials.
Retailers such as IKEA and The Home Depot will recycle these bulbs for free.  The City of Boston will also recycle these bulbs through their Hazardous Waste Collection Program twice a year and will accept all fluorescent lamps.  The EPA has an excellent website on CFLs and additional recycling locations.
Community Climate Action and Air Quality Grants Program
The City of Boston is now accepting Request for Proposals (RFP) for the second round for its Community Climate Action and Air Quality Grants program.  In the second round of funding, Boston residents, businesses, and non-profit organizations may submit proposals on a rolling basis for grants of up to $40,000 for projects that encourage and support reducing greenhouse gas emissions and saving energy. The purpose of the funding is to reduce air pollution that contributes to global climate change.
For more information, contact the Air Pollution Control Commission at 617.635.3850 or visit webpage..
Boston moves up to the 6th most sustainable city in new SustainLane.com survey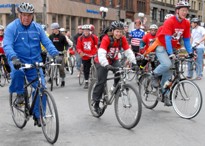 SustainLane.com has ranked Boston sixth in the nation for sustainability, moving up one spot from last year. The study cites Mayor Thomas Meninoís executive order in April 2007 calling for the cityís first community-wide greenhouse gas inventory and a 10-percent increase in recycling by 2012. The study also took into consideration new zoning laws requiring LEED certification for certain developments, a requirement that all taxicabs go hybrid by 2015, and a mandate to assess all city buildings for alternative energy potential.
Events
On December 15, the Mayorís Annual Homeless Census
Teams of volunteers will join the Mayor for a homeless street count. The census provides critical information on the scope of the problem of homelessness in the city. If interested, sign up for the Homeless Census.

Happy Holidays to all.