Wind Energy Zoning
The Boston Redevelopment Authority has established zoning regulations for the erection and operation of both ground-mounted and building-integrated wind energy facilities within the city. The zoning regulations provide standards for the placement, design, monitoring, modification and removal of wind energy facilities. The regulations streamline wind turbine installation, address public safety concerns, minimize impacts on scenic, natural and historic resources of the City of Boston, and provide adequate financial assurance for decommissioning. 
Article 88 Wind Energy Zoning
MWRA Wind Turbine Projects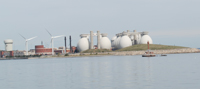 The Massachusetts Water Resources Authority (MWRA) has developed a series of wind projects around the Boston area.  Including a recently installed a 1.5 MW turbine at their Charlestown facility and two 190-foot, 600 kW turbines at Deer Island. These turbines will generate over 5 million kW hours per year. The energy generated will save MWRA ratepayers $600,000 a year in energy costs.
Press Release
Deer Island Renewable Energy projects
Logan Airport Wind Turbines
The Massachusetts Port Authority installed 20 roof-mounted wind turbines at Logan Airport's Office Center in May 2008. This fleet of 12-foot-tall wind turbines, each of which has a capacity of 1 kW, is allowing Logan to tap into the steady winds along Boston's waterfront.
---