Averaging over 300 incidents per day and more than 100,000 incidents per year, Boston EMS is one of the busiest EMS providers in the country. The Department utilizes a two-tier response model offering Basic Life Support (BLS) and Advanced Life Support (ALS). BLS ambulances are staffed with two EMTs who are exceptionally well trained to intervene in non-critical and critlcal incidents. They are responsible for treating, stabilizing, and transporting patients to hospitals. ALS ambulances are staffed by two Paramedics who have highly developed medical skills and the capability to deliver complex interventions and treatments in the field.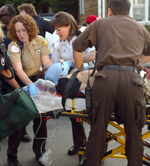 Approximately 4 out of 5 ambulances on the streets of Boston operate at the BLS level. This high ratio of BLS to ALS units ensures that our BLS crews get plenty of experience and reserves our ALS crews for those critical emergencies which require their advanced medical capabilities. This structure ensures that our Paramedics are well-seasoned and that their skills are sharp. Because of the incredible depth and dedication of the Field Operations Division, Boston EMS has a reputation for providing a level of EMS care that is among the highest performing in the country.
Medical Intelligence
Boston EMS places an emphasis on intelligence gathering through cooperation with other public safety and public health organizations. Through greater information sharing we strive to prevent emergencies and to respond effectively when incidents occur.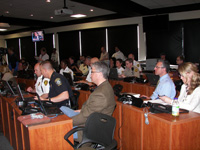 Since 2007 Boston EMS has had a full-time dedicated presence at the Boston Regional Intelligence Center (BRIC). This partnership allows EMS to maintain an up-to-date awareness of public safety and homeland security issues as well as disseminate any relevant emergency medical information to the EMS, public health and medical community.
In 2009, Boston EMS opened the Stephen M. Lawlor Medical Intelligence Center (MIC). The MIC is a state-of-the art communications and information sharing facility which allows Boston EMS, first responder agencies, hospitals, public health departments, community health centers, long-term care facilities, State and Federal as well as public and private partners to share information and work collaboratively in response to large scale incidents.