UPCOMING
EVENTS

HomeWorks Help
Saturday, December 12, 2009,
10am – 12pm

Cell Phone Santa
Saturday, December 12, 2009,
10am – 6pm
and
Sunday, December 13, 2009,
10am – 6pm

Holiday Wander Through
Roslindale Village
Thursday, December 17, 2009,
5pm – 9pm


Remember to visit
the City Calendar
to view additional events
happening around Boston.

_________________
Holidays on Main Streets
is here again!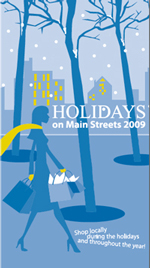 Find out about all the festive neighborhood happenings taking place this holiday season as part of the City's annual Holidays on Main Streets initiative.
_________________
Foreclosure Redevelopment Funds Still Available
Last spring, DND announced the availability of $4 million in federal Neighborhood Stabilization Program (NSP) funds for the acquisition and rehabilitation of foreclosed and abandoned properties. These funds are designed to promote the creation of new homeownership and rental housing in those neighborhoods disproportionately affected by foreclosures. Applications for this funding are being accepted on a rolling admission basis until June 21, 2010 or until funds are expended.
Applicant Packets are available online or at DND's Bid Counter, located on the 10th floor of 26 Court Street, Boston, MA 02108. (Bid Counter hours of operation: Monday – Friday 9:00a.m. - 12:00p.m. and 1:00p.m. - 4:00p.m.)

Questions can be directed to John Feuerbach, Senior Development Officer, at 617.635.0353 or by e-mail, at jfeuerbach.dnd@cityofboston.gov.
View all current DND
Requests for Proposals
_________________
Reminder:
Mayor Menino's
2nd Annual Food and Fuel Campaign
is Here to Help
As the holiday season approaches, Mayor Thomas M. Menino and the City of Boston are helping residents meet basic needs through the City's Food + Fuel Campaign and other City programs. Between fuel and weatherization resources and food pantries and meal programs, residents will not have to go hungry or freeze this winter.
Find out how the
Mayor's Food + Fuel campaign
can help you.
Read press release.
_________________
Focus On:
DND's New Office of Business Development Director
Rafael Carbonell joined DND in September as Deputy Director for the Office of Business Development. Rafael recently worked for Madison, Wisconsin-based Thrive, Inc., a regional collaborative economic development enterprise which he launched and oversaw. Born in Boston and raised in Brattleboro, Vermont, he attended Boston College, where he earned B.S. degree in marketing with a focus on International Business and Spanish.

As Deputy Director of OBD,
Rafael will work with his staff of 20 to provide entrepreneurs and existing businesses with access to financial and technical resources in an effort to retain and grow Boston's small business base.
Learn more about the Office of Business Development division
_________________
Contact Us
DND provides Boston residents with a host of services and resources related to home buying and home owning, affordable housing development, homelessness prevention, and small business assistance.
To find out more, please visit us at
www.cityofboston.gov/dnd


Department of
Neighborhood Development
26 Court Street
Boston MA 02108
617.635.3880