Programs, Services, and Free Classes for Homeowners
Classes
Homeowner 201: Tips for New Homeowners - This six-hour seminar designed especially for new homeowners includes information on property maintenance, lead paint, landlord/tenant issues and budgeting.
Homeowner 202: Tips for New Condo Owners - This six-hour seminar designed especially for new condo owners includes information about condo ownership, management, maintenance, legal issues, and repairs.
Homeowner 302: Owning a Condo in a Self-Managed Condo Association - One-hour class designed for condo owners with small self-managed condo associations.
Home Improvement Workshops - Learn from master craftsmen from the North Bennet Street School about basic home repair skills and maintenance projects that you can do yourself.
How to Hire a Contractor Workshop - This is a free workshop that explains what you should know before you sign a contract; what questions you should ask, whom you should check with, and what your resources are if you run into trouble.
Services
Don't Borrow Trouble Foreclosure Prevention - Provides consumer outreach, information, and counseling to help Boston homeowners avoid predatory lending and foreclosure. Services include counseling, intervention, and workout strategies.
Financial Assistance*
If you own and occupy a 1-4 family home or a condo in Boston, you may be eligible to receive financial assistance through a variety of city programs.
HomeWorks HELP - Through this program, you may be eligible to receive an interest-free loan of up to $10,000 for a single-family home; up to $15,000 for a two-family home; and up to $20,000 for a three-family home for approved interior and exterior repairs.
Senior Home Repair - If you're at least 62 years of age and own your home, you may be eligible for special programs that provide 0% interest-deferred loans for a variety of minor, moderate, and emergency home repairs.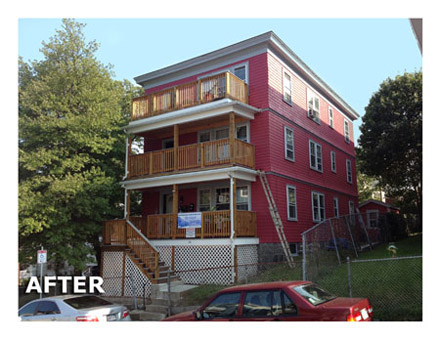 Shown above is an example of Triple Decker repainting done through the 3d Campaign. (Hold cursor over image to see Before image.)
3D Campaign: Renovation Assistance for Triple Decker Owners - This program offers help with funding for home repair or energy retrofits.
Lead Safe Boston - Lead poisoning can delay or impair learning and growth in your children or grandchildren. The Boston Home Center can help you delead your home.
* Dollar amounts and financial assistance offers represent conditional and/or deferred loans. Primary mortgage/refinance/rehabilitation loans must be secured by the applicant.
Some programs cannot be combined.
Income eligibility and other restrictions may apply, including repair types and property location.

Back to Boston Home Center