Boston Home Center
The Boston Home Center (BHC) provides first-time homebuyers with educational courses and financial assistance, and markets homes developed for income-eligible, first-time homebuyers. The BHC also assists homeowners with education and foreclosure prevention counseling, and encourages strong, stable neighborhoods by providing residents with financing and technical assistance to maintain and improve their homes.


Sign up for a FREE course!
Home Inspection Workshop
Learn why home inspection is important, and what you should expect from your home inspection, and from a Licensed & Certified Home Inspector. Home Inspection Workshop

A New Feature for Homebuyers!
We've provided a new tool - the Finder - to get you to the Boston Home Center courses and services that will help you the most! Try the Finder! It's quick and easy!
New! Homebuyer Club
The BHC Homebuyer Club will help ensure that homebuyers are prepared and qualified to buy a home in Boston. The club will help you connect with lenders and realtors and provide topical seminars.
Check Out Our New Topical Courses!
Sign up now for these great new Boston Home Center workshops:
Time to Find A Home Sweet Home!


The Boston Home Center can help make your dream of homeownership a reality! Learn about our

Financial Assistance Programs

for first-time homebuyers.
It's time to start those home improvement projects!

3D, Boston's Triple Decker campaign, offers great discounts at participating stores on paint, landscaping supplies, and much more when you use your 3D card!

Learn more »
Protect Children from Lead Poisoning
Ask us about Free Deleading. Free inspections and up to $8,500 per unit to remove lead paint hazards from your property. Learn more »

For Homebuyers — Find out about affordable homes for sale through the City of Boston, and learn about programs and classes to help homebuyers make informed decisions and take advantage of available financial assistance.
Free Classes for Everyone — Learn about resources available through the Boston Home Center for potential buyers and current homeowners.
For Homeowners — Learn about programs, services, and free classes to help homeowners make informed decisions and take advantage of available financial assistance.
Preventing Foreclosure — Learn about the City of Boston's workshops and counseling programs related to foreclosure.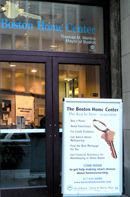 Visit the Boston Home Center
The BHC serves residents Monday through Friday, 9:00 A.M. to 5:00 P.M. from its walk-in retail office located at 26 Court Street in downtown Boston. Here, visitors can pick up information about the City's homebuyer and homeowner programs, learn about upcoming workshops, seminars, and classes, and even talk with a Boston Home Center staff member face-to-face.
Neighborhood Home Center (NHC)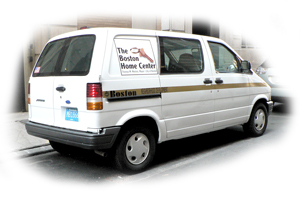 The NHC is DND's mobile housing outreach center — designed to bring the Boston Home Center's resources and services directly to the neighborhoods. Our housing staff travel to city-sponsored and community housing-related events in the Neighborhood Home Center van, bringing information about available resources to prospective homebuyers. NHC staff also provide one-on-one homebuying guidance, as well as information about referrals. Call the Boston Home Center at 617-635-HOME for more information about how NHC can help your organization.