Subscribe
If you are not yet a subscriber,
subscribe now!

---
New Urban Agriculture Open Space Proposed for City Land
As part of the City 's ongoing efforts to support opportunities for affordable,healthy food in Boston's neighborhoods, DND plans to make available certain city-owned properties in Mattapan and Dorchester for urban agriculture open space uses and is working with the BRA to assign new zoning to these parcels through an amendment to Zoning Code Section 33, Open Space Subdistricts.
The following city-owned properties in Mattapan/Dorchester are the focus of the rezoning effort:
3-29 Tucker Street
131 Glenway Street
18-24 Standish Street
vacant property between 94 Ballou Avenue and 116 Ballou Avenue
A neighborhood meeting, focusing in particular on the Tucker Street and Ballou Avenue properties, will be held:
Wednesday,
December 1, 2010
6:30pm – 8:00pm
Prayer Power
Apostolic Church
151 Norfolk Street
Dorchester
Learn more
and view a copy of the draft zoning amendment here.
---
Upcoming
DND Events
Destination Hyde Park
Over 24 performances, exhibitions and workshops are featured at more than 20 venues.
November 29 -
December 4, 2010

Roslindale Village
Holiday Wander
Thursday, December 2, 2010
5 – 9pm
Brighton Main Streets
13th Annual Gala
Friday, December 3, 2010,
6 – 10pm
Remember to visit the City Calendar to view additional events happening around Boston!
---
Check out Boston Main Streets
on Facebook and Twitter!
---
Looking for a
Foreclosed Home
in Boston?
Check out two great homebuying opportunities in Dorchester!



6 Selden Street


4-6 Wellesley Park
The City of Boston regularly offers foreclosed properties for sale to the public through a Request for Proposal (RFP) process. While many of these homes will require significant rehabilitation before you can move in, the Boston Home Center offers financial assistance and critical technical support throughout the rehabilitation process.
Learn more about our
Foreclosed Homes for Sale program or view all Affordable Housing Opportunities being marketed by DND.
Find out more about Boston's Neighborhood Stabilization Program Funding and how we are working to stabilize those neighborhoods disproportionately affected by foreclosures.

---




Mayor's Holiday Special
The Mayor's Office of Arts, Tourism & Special Events and ArtsBoston present a program of discounted tickets for your favorite holiday shows.


Winter Brochure 2010-11
Tree lighting, performances and activities throughout the city from November to February.


Free Holiday Parking
Weekend shoppers will enjoy two free hours of metered parking throughout the city's commercial districts, including downtown, starting on "Black Friday," November 26th and continuing for five consecutive Saturdays through December 26th. While the meters will be free on these days, a two-hour time limit will be enforced by the Boston Transportation Department to accommodate as many visitors as possible in shopping districts.


Toys For Tickets
Drivers issued a non-public safety parking ticket on Boston's streets on December 1st through 3rd has the option of resolving their ticket by providing a toy of equal or greater value than the ticket fine. (Public safety violations that are excluded from this program are: HP Ramp, HP-DV Parking Only, Fire Hydrant, Crosswalk, Double Parking, Fire Lane Less than 20 Feet From An Intersection and No Stopping/Standing) Last year's Toys for Tickets campaign yielded over $3,000 worth of toys.



Events & Entertainment
From holiday theatre performances to neighborhood tree lighting ceremonies, there is something for everyone to enjoy in Boston this holiday season.





Ice Skating
Look up public skating hours at your local ice skating rink or embrace the winter weather at the Boston Common Frog Pond.


Discounts
Check out great deals around town during the holiday season.



The Downtown Crossing Holiday Market, located on Summer Street between Washington & Hawley Streets (between Macy's & the former Filenes building) runs from November 27th through December 24th, and showcases more than 30 local vendors selling a variety of unique holiday gifts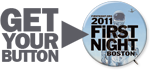 First Night Boston
On December 31st the city comes to life with an incredible variety of arts on show as the countdown to 2011 begins. Highlights include the Grand Procession and the Boston Family Fireworks. First Night 2010 buttons are available for $18 each at retail locations throughout the city and include admission to 12 hours of programming and indoor activities plus discounts before and after First Night.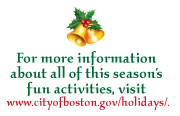 ---

Contact Us!
DND provides Boston residents with a host of services and resources related to homebuying and homeowning, affordable housing development, homelessness prevention, and small business assistance. To find out more, please visit our website.
Department of Neighborhood Development
26 Court Street
Boston MA 02108
617.635.3880
Follow DND on